Heads up for all the mom and dads wanting to head to warmer waters, Great Wolf Lodge is holding their biggest sale of the year starting this Wednesday January 26, 2011 at 11am.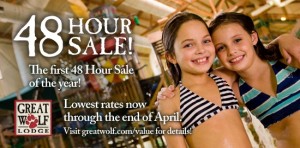 I recently did a video review of all the fun you can have at Great Wolf Lodge, and it is indeed the perfect place to be during this brutal cold winter.
With this 48 hour sale, you will be able to input the promo code 48HOUR and receive up to a 20 percent discount on your reservation!