Today my husband and I were having a chat over lunch about how many of our friends and loved ones are going through so many things right now. I mentioned to him, that I need to start making a list so I can make sure everyone is getting covered in my prayers. I seen this look on his face like he had an idea! He said Jen, why don't you start a weekly post on your blog and title it "Mom Bloggers Take Time to Pray".
I just sat there and smiled. This was such a wonderful idea. So many people in our blogging community can use the online support and prayers, so why not us all come together each week and add our prayer requests. We can take this list each week and uplift the special prayer requests. God is so good and I am a firm believer that prayer works!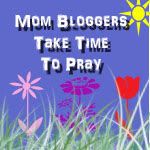 This Week's Prayer Requests:
Do you have a prayer request? Please leave a comment below and I will update the list through the week. Let us all gather virtually and uplift each one of these specific request. God will hear us and will prevail!

"This is the confidence we have in approaching God: that if we ask anything according to his will, he hears us. And if we know that he hears us – whatever we ask – we know that we have what we asked of him"
(1 John 5:14-15).