Have you heard the news? Laughing Cow has come out with new flavors – Smooth Sensations Cream Cheese Spread. I was so excited to finally find them on our grocer's shelf.
We have been huge fans of the Laughing Cow cheese wedges for a long time so it was very exciting to see them come out with a strawberries & cream and cinnamon cream cheese spread.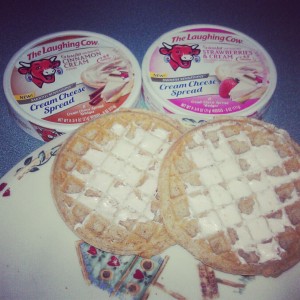 Each wedge is only 1 point on Weight Watchers. Huge score! For the past two mornings, I have been spreading one wedge on two Nutra Grain waffles. Total point value for all = 6 points. I'm so in love. My precious daughter M is a huge fan too.
Thank you Laughing Cow. This will be served a lot in our house. You can pair with english muffins, graham crackers, and the list could go on. Go enjoy a great treat 🙂