Samsung… This is a word that I was not real educated on until about a year ago. We were in the market for a Washer and Dryer and my hopes were set on a Front Loader Washer and Dryer. Take a look and listen on how we arrived at the decision for purchasing a Samsung Front Loader Washer and Dryer.
As you can see, we are pretty big fans of the Samsung brand. I had the delight of being able to experience the whole new line of Samsung Appliances recently when I was in NYC. Recently, Samsung launched their new 2010 Home Appliance Line-up. Samsung's new home appliance product line includes a front-loading washer (WF520) with a spacious 5.0 cu.ft. capacity and a new intense PowerFoam™ cleaning technology, a new Four-Door Refrigerator (RF4287) with a unique mid-drawer positioned at counter height that opens to the outside and has independent temperature control,  a new line of side-by-side refrigerators highlighted by the RS267 that offers best in class energy efficiency, and the first hybrid induction range. There is a store located in NYC that lets  you go in and have your very own Samsung Experience. This allows you to go indepth with each product to see if this is the right match. I will say, once you get in there, you will not want to leave.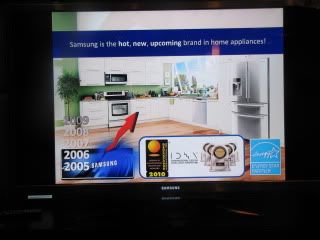 Samsung is listening to us moms. They heard that we are busier than ever and designed their appliances in a way to save us time and energy! Let's take a look into the new Refrigerator.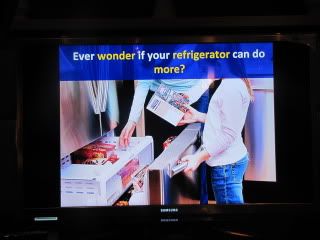 The Samsung Refrigerator is a Four-Door French Refrigerator. The drawers in this fridge just makes moms smile so big. A Counter Height 4th Drawer called the FlexZone Drawer is an independent mid drawer, separate from the main refrigerator compartment that offers something for every family member. Just take a look inside of this fridge.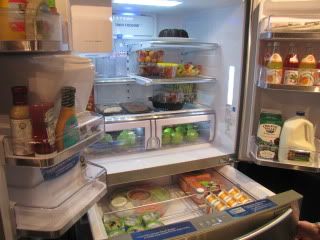 Look how spacious and organized it is! You can easily open the refrigerator and find the item that you need at any given moment throughout the day. Do you see the shelves straight back on the left? You can actually fold those shelves up to give you more room for taller items such as for soda pop bottles. Then the doors at the bottom are just the most creative design ever! It comes with a smart divider.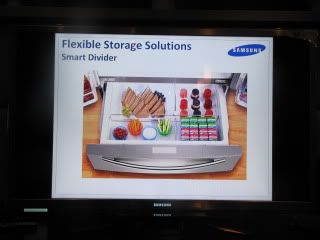 The Smart Divider is adjustable and offers flexible storage solutions for whatever you grocery needs may be – it is the ultimate refrigerator organization tool.
Also, on the front of the refrigerator is all kinds of temperature controls that you change by just simply touching the buttons with your hand. With four preset temperature control settings, Mom can store a party-size salad platter; Dad can have optimally chilled drinks; and kids can easily reach for their favorite snacks and juices boxes – all at the perfect temperature.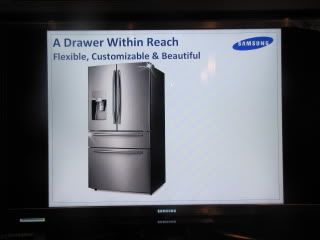 Thank you Samsung for finally creating a fridge that caters to the ever so busy family in today's fast pace world.
As if I was not totally won over by the refrigerator (I was actually drooling over it), I set my eyes on the new range.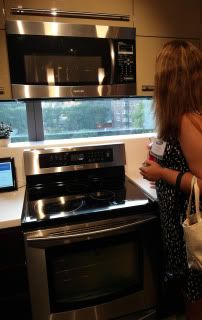 This is a freestanding induction range. It only uses a specific set of cookware, that is how high tech this beautiful appliance is.  The induction range has faster cook times, which means dinner gets to the table quicker.  It offers fast and efficient cooking and boils water up to 50 percent faster than traditional electric cooktops. With the easy-to-use SelecTouch™ panel, you have more precise control over cooktop temperature, whether using high-heat or doing a slow simmer. You also get a faster response when changing temperatures so you can master meals no matter what skills you have as a cook. Now us moms have no excuse of not saying we cannot cook… Samsung is helping us moms get back to cooking in the kitchen instead of take-out every night :).
We all know that the after dinner part is one of those things that takes so much of mom's time. Samsung is hitting it out of the ballpark with saving us time with the induction range. Since the smooth surface stays cool to the touch, food spills don't get caked on and baked in. Moms can just wipe and go, so they can spend less time cleaning and more time entertaining.
Now you can see why I have really fell in love with the Samsung appliances?! It just thrills me so much that Samsung is actually listening to us moms that we need time savers in order to get more time in the day. They have worked hard with their engineers to make sure they are delivering a product that moms everywhere are going to love. Samsung is all ears and very open to opinions. I learned this when I was in the Samsung Experience room.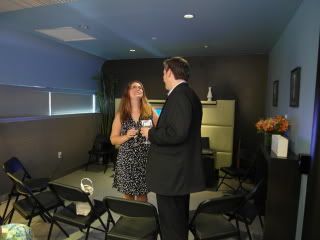 Every question I asked, was always followed through with a thorough response. Samsung you really have a customer for life!
Go ahead and take your own Samsung Experience on their online site at Samsung.com/HomeAppliances.
Full Disclosure: I was in no way paid for my thoughts here about Samsung. I am a true real customer that just wants to share these time saving appliances with other parents.