Is your family big fans of yogurt? I will tell you, everyone in my family usually eats one serving of yogurt a day. I never realized though how much additives were in certain brands of yogurt. Moms and Dads, discover the newest tasty, wholesome snack – one that both parents and kids can happily agree on – available now in the dairy case!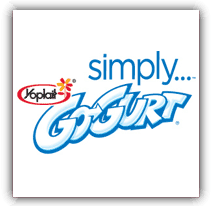 New Simply… Go-Gurt is made from simple ingredients moms look for and contains no high fructose corn syrup or artificial colors or flavors. Each convenient portable yogurt tube contains a good source of calcium and vitamin D. Simply stated, Simply… Go-Gurt is a good-for-you, low fat yogurt snack that you can feel good about giving to your kids.
New Simply… Go-Gurt is available in two kid-friendly flavors, Strawberry and Mixed Berry.
I did a little experiment with my girls. I did not tell my girls that I changed the yogurt in their laptop lunch boxes to the new Simply… Go-Gurt. I eagerly awaited their arrival back home that afternoon and was greeted my daughter saying "Mommy, Mommy… I loved that strawberry yogurt so much in my lunch box. Can I have some more tomorrow for lunch." She has made sure each day that I put it in her lunch box which is weird because she never would hardly eat all the yogurt from before. Now, she never has any yogurt left when she comes home from school. SCORE!
I would love for you to try this yogurt and see what your kids think! I have coupons available up to 30 of my readers that can be printed right here from this blog post.
Also, Yoplait and BlogSpark has graciously offered up a Simply…Go-Gurt prize pack to giveaway to one of my readers.
All you need to do to enter the giveaway is leave a comment below letting me know if your family is a big fan of yogurt and what flavor do you all usually enjoy :).
______________________________________________________
Stay up-to-date with One Moms World by subscribing to our feed!
P.S. Yoplait and BlogSpark did provide One Moms World with a prize pack. This in no way effected my review here as my girls will definitely tell you if they do not like a certain food 🙂