Bringing up girls in today's society is no easy task. We have brands that are trying to flaunt these hoochie looking clothes right in our daughter's eyes or these commercials that try to sell images that make girls want to grow up so much faster. I think this is not acceptable and definitely not true beauty.
True beauty is also about what is on the inside. Veggie Tales has recently came out with a wonderful DVD (Sweetpea Beauty) that helps girls see the real beauty in themselves and showcases a girl after God's own heart.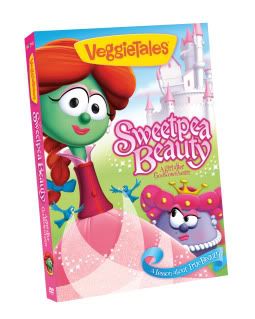 Take a sneak peek:
This DVD is very powerful and just what is needed for today's young girls. It teaches life lessons such as:
1. Helping Others – If young girls see a friend in need, they will know to go up and help them.
2. Honoring Your Parents – Parents are not always harping on rules, they are just guiding their kids to make the right decisions so they can grow up to be beautiful and wise.
3. Taking Care of Our World – We want to make sure we are taking care of all of God's creations so we will have a clean environment to always grow up in!
4. Giving Thanks – Always remember to give God thanks each and everyday for all he has done for us and then not to forget to thank all our leaders around us such as our parents and our teachers.
5. Knowing Your Special – We may not always like what we see when we look at ourselves, but we need to be reminded that God broke a mold when we were created and each of us are unique and beautiful in our own ways. Our smile can light up the world, we just need to remember to use it!
As you can see, it covers all the bases so clearly and it really keeps the girls attention throughout the whole movie. My girls have watched it now more times than I can count and it really opens up for conversations when the girls watch it. Be prepared and be able to hold conversation with your child after the movie. I definitely recommend it!
This would make a perfect Christmas gift for that special girl in your life. We have added it to our Holiday Gift Guide and as a bonus right now. Veggie Tales is offering 30% off all of their DVDs and CDs.
Full Disclosure: We were provided a DVD review copy by Veggie Tales but all thoughts and opinions here are of my own.