I always thought Scott was on board with me over the past couple years of going green and buying organic. What he did this weekend, just summed it up that he does take this true to his heart.
He surprised the girls with shirts from his business trip to Iowa. When he showed me the shirts, I immediately jumped up and hugged him.
It was a Mutt's Organic shirt.
This shirt is so incredibly soft too, so I am going to see if I can find some more for the girls around here in NC or on the web.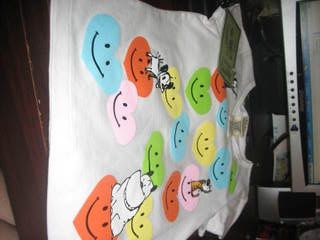 Not too mention they also are sooooo cute. Needless to say the girls were highly impressed with their daddy's surprise.
I know we have been together over 6 years, but I got those butterflies in my tummy again just seeing what he is doing for our girls and trying to help me with this organic living. It helps to have support here in the house and so happy he wants the best for our girls as well.
You know its the little things that can make you fall in love all over again with your hubbs :). Have I mentioned I'm oh so happy to have him home?