December 2009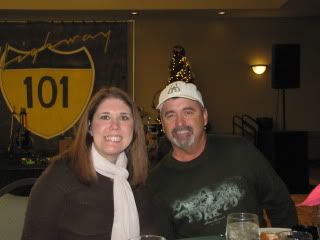 Together 8 years… Married for 2 Years! Happy Anniversary to the love of my life Scott :).
It all started here on the blog and then a year later I blogged about how could we honestly make it through that first year? Now, here we are January 2010 and I have to say the 2nd year of marriage ROCKED. We had the best year.
Random Thoughts of 2 Years of Marriage

We are much cuter since we are carrying around less pounds now 😉
We still had our tiffs, but we didn't let it stop us from still showing our love for each other 😉
He is really my best friend!
We can so tell when we are pushing each other's buttons, and will give each other that smirk 😉
He has made me into a huge coffee drinker 😉
He will have coffee waiting for me in the mornings!
He is such a great hands on daddy that loves taking the girls to Chick-Fil-A 😉
He is so humorous and sometimes he can be over the top but I still love him 😉
He hates talking on the phone!
He loves Fox News 😉
He hates when I let the gas get to right on empty 😉
He loves to do laundry (haha or maybe he just wants clean clothes to wear!)
He is my biggest fan with my work 😉
He builds my self-esteem up so much since I don't think I'm all that 😉
He loves God and shares his faith openly!
He loves to sneak up behind me and give me the biggest hug (heart melts)
He loves to drive (thank goodness since I love to travel)
He loves to surprise me with my special foods!
He LOVES my cooking 😉
But Most Important: He LOVES me and our girls!
Happy Anniversary Scott. What, Where and How will our 3rd year of marriage will bring us? I for one, cannot wait to find out.
I love you Honey Bunny (he so hates me calling him that). Here's to an awesome year :::cheers:::