A day that will be forever etched in my mind.
Scott was in a car accident yesterday on his way to work. We are so thankful he is alive and he definitely had some guardian angels looking after him. I keep telling him it was his mom and dad and God.
Yesterday morning on his way to work about 6:30am, he was driving up the hill and got to the top of the hill. He began feeling faint but thought he could make it to the stop sign to pull off the road. That is the last thing he remembers. When he came back to and alert, he had nose dived his car down an embankment and flipped the car. The car landed upside down on the driver's side.
I had just woke up and came to my desk to work for the day. I heard someone knocking really hard on our front door, it was my mom. They had contacted her because that is the phone number they could find. I swooped up the girls and fled to the hospital. I walked in and we caught eyes and I immediately hugged and kissed him.
He had to stay in the hospital because his cardiac enzymes came back elevated, so it could have been a mild heart attack that made him black out and loose control of his car.
You can see the pictures I uploaded, and I don't even think the pictures does any justice of just how bad the car is.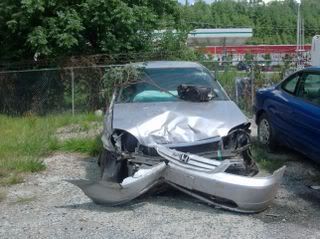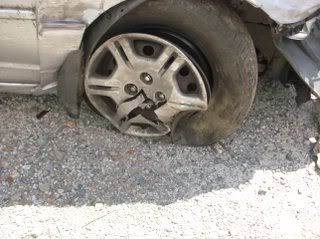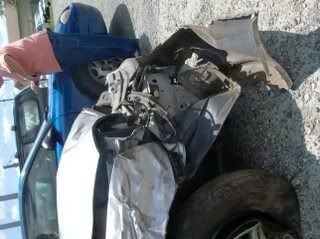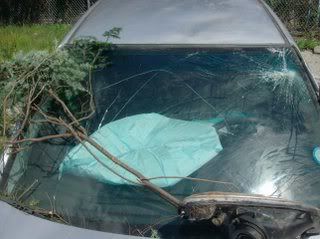 He is very lucky to be alive and no I'm not even going to say its luck, he had guardian angels looking after him. God has a purpose for him on this Earth and I'm so glad God kept him here and didn't take him away from us. It has really made me do a lot of thinking the past couple of days. All the what-ifs keep running through my mind. What if God took him yesterday morning and not let him live? That is my husband, that is the daddy of my girls….I had been fussing at him the last couple of weeks because he had been coming straight in from work and just collapsing on the couch and sleeping. Here I thought it was laziness, and obviously it was his heart trying to give him a warning sign.
Both of his parents died young of massive heart attacks. I didn't even get to meet them, so he does need to take pre-cautions. The cardiologist said this was your wake-up call Scott. It was also a wake-up call for me. I could be without him right now, I will never take another day granted with him. I will live each day to the fullest with him. I will not sweat the small stuff with him and argue over the stupid stuff. We will embrace life and enjoy our girls.
Thank you so much Lord for letting me have more time with him. Thank you for having your hands over him during the accident.
They are doing more testing on Monday morning at the Heart clinic so we can get answers of the damage that was done to his heart. I am very anxious and so worried but I know with God on our side that we are going to get through this. I have did my fair share of crying, because all the what ifs running through my mind. I am just so happy he is here with us today and for that I am going to REJOICE!