Walt Disney World went to the dogs, literally! Our sweet L is such a huge animal lover. She would have been in dog heaven surrounded by dogs at the most magical place on Earth. How cool would it have been to show-up and see dogs taking over Main Street?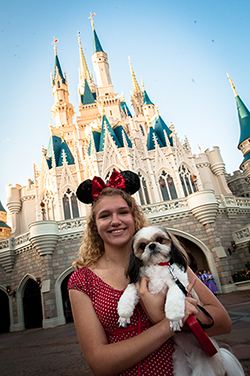 101 dogs joined their owners and pranced through Magic Kingdom as part of a Disney Side Dog's Day at Magic Kingdom today before park hours at Walt Disney World Resort.
The tail-wagging morning featured a doggie dance party, a walk in the park through Cinderella Castle, a costume contest, doggie treats and more.
While Disney has a special allegiance to dogs, the event was private. Dog owners participated in a special "Show Your Disney Side" online photo contest, showing their pets dressed whimsically as Disney pirates and princesses, heroes and villains.
Pooches walked the green carpet and joined in a dog jam dance party with beloved Disney dogs like Pluto and Bolt.
The production was part of Animal Planet's AMERICA'S CUTEST: DISNEY SIDE HOWL-O-WEEN special scheduled to premiere October 18. The hour-long special hosted by actor and pet lover John O'Hurley (Seinfeld, Family Feud) will feature humorous video clips celebrating the Disney Side of pets and their owners.
Check out this sneak peek!