My precious and sweet little L hit a huge milestone last weekend, and a part of me is so excited for her but then the other part of me wants to crawl in a closet and have a good cry. You see, L is my youngest and each of these big milestones she hits, means my youngest is not a baby anymore.
Go ahead and say it, I know I am not going to make a good empty nester. I just wish I could stop time on the clock from rushing forward at fierce lightning speed. Let's set this latest scenario up.
The hubby is out in the drive with his tools acting like he is Mr. Bicycle repairman to M's bicycle. Much to my surprise, he actually knew what he was doing. I should have known, he is the ultimate Mr. Handyman. Well, over on the side L was really paying attention to his tools and then would look at her training wheels real strongly. After some really close concentration, she popped up and said "Daddy, bring those tools right over here and take off my training wheels." Say what? L, are you sure and just when did you become boss in this family. 😉
I muttered to my parents who were in town visiting, that we are all going to be surprised if she just takes off on the bicycle when the training wheels are off like she has been riding without training wheels for years. The time has come, it is either make it or break it. Now is time to cue the video. Listen in closely to L's words.
And folks just like that, she was off. How did you enjoy that little "southern accent" by the mom herself at the beginning of the video? Just keeping it real folks. My baby girl L, has not stopped riding her bicycle all over the community. She proudly tells anyone that will listen that she has no training wheels now. That's my baby girl.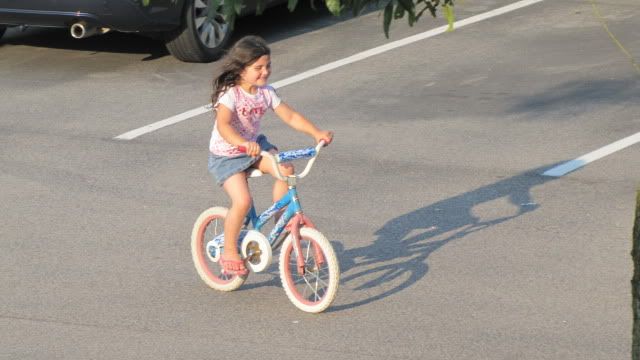 I am so proud but let's take a while for the next big milestone accomplishment ok? I need to finish wiping the tears of joy, sadness and the overwhelmed feeling first.