My girls are getting ready to wrap up their first 9 weeks before they track out of school for 3 weeks. They have done so wonderful and my oldest is loving the comments she is getting with all her DaySpring Back to School products. M has really been asking a lot of questions lately about God and how the devil can use people to get you down. She is one smart cookie… I am telling you!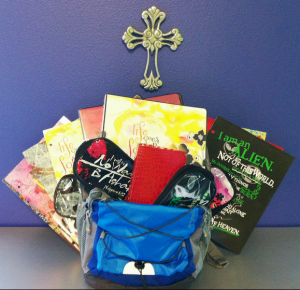 I want my girls to be a Christian example and for everyone to know that we live by God's guidance. My parents always brought me up to church so it is my priority to do the same with my girls. The foundation starts while the children are young and we cannot always control what happens at school. We can control though how we are bringing up our children and mold them them not fall for peer pressure. The children can be at school with a purpose and show that God is our all mighty powerful leader. We can lean on him to help us get through each day. M is really realizing that this year with each passing day and it warms my heart to know she is making an example with all the kids in her class. I will have another post coming soon from her teacher's conference last Friday of just how much of an awesome leader M is in her class. I love it and I know God is smiling down on that precious M.
How does your  kids live with a purpose at school? I know three special blogging friends in my life that do have their kids live with a purpose at school. They are:
Cindy at Cin's Out Numbered & Loving It
Nell at Casual Friday Everyday
Carolina Mama
I love how they are not afraid to share their testimony and be a christian role model to their kids. Thank you ladies for making the world a better place for our kids!
I would love for you to join in the Back to School With Purpose Blog Campaign 🙂
DAYSPRING'S BACK TO SCHOOL WITH PURPOSE BLOG CAMPAIGN RULES:
* Copy and paste these rules to your blog post.
* Create a blog post or Facebook note about what it means to you to go Back to School WithPurpose and identify others who you feel are Living With Purpose in their lives – you can recognize as many individuals as you want.
* Link back to person who gave you a DaySpring Award
* Let each person you are recognizing know you have recognized them.
* Leave your link at btswithpurpose comment section. You can also find the official rules of this #WithPurpose blog campaign, and more information about Back to School with Purpose with DaySpring there.
* DaySpring is donating $10 for each blog or Facebook note participating in the Virtual Bag It Forward Donation to Adopt-A-Classroom (up to total of $5,000 for blog posts written by September 08, 2010).
* Please note that only one blog post per blog url will count towards the donation