Have you ever wished you could produce a painting that will put the wow factor effect in everyone's eyes? Your wish just came true. This cool and unique company in downtown Raleigh, will help you produce a painting that will have everyone talking.
I did just this thing last week. The venue is called Wine and Design. I have always enjoyed being creative but have always been shy about producing a painting. When I was approached about attending a night of painting fun, I was so giddy and nervous. Could I really paint something that would hang on my wall?
Of course, I could with the help of an artist. Wine and Design provides everything you need to do a painting. Apron, paint, 16 x 20 canvas, brushes, and an artist. The artist will walk you through step by step in the creation of the night.
I started out with a black canvas: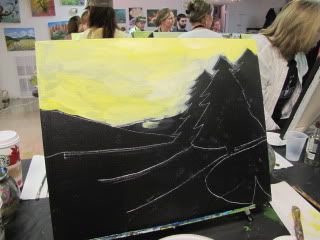 Then I started doing steps that the artist detailed carefully: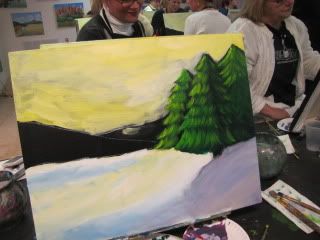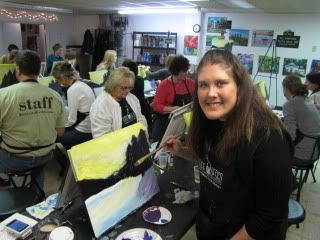 and Ta Dah… The Final Product! Isn't it so good?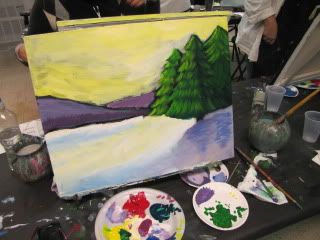 My girls and hubby could not believe I did this painting. Friends it is seriously that easy! It is so much fun to do with a friend. My awesome friend from here in the Raleigh area Carolina Mama invited me to go with her and I am so ever thankful. I am itching to go back again.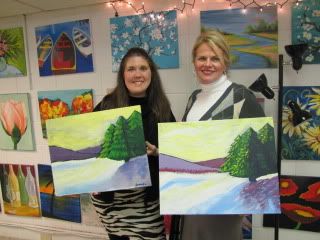 It is only $35.00 to go for a night of painting. Like I said they provide it all and you can bring in your drink of choice such as wine or Starbucks (my preference) and just have a good time with music, friends and paint. I am wanting to go back and do a painting for my mom's birthday 🙂
Now don't ever say you cannot be an Artist! Wine and Design will help you fulfill your dream!