Mother's Day is just around the corner. I always love this time of year as Mother's Day is always right around the same time frame as my Birthday. One of the things that I always dreamed of growing up, was being a mother. I longed for it, so in May of 2003, my first Mother's Day, I was one proud mom. We went on a picnic that day, we took a stroll, we sat in the rocking chair and just rocked the afternoon away and then finished the day with a dinner at our neighbor's house. I remember that whole day that I did not put M down one time nor let anyone hold her at ALL that day. It was my day and I was so thankful that I could celebrate the day as being a mom.
Little did I know, that 2003 would just be one of the best Mother's Day ever! The very next year, I was so happy to be pregnant with our precious L, and have enjoyed each Mother's Day since. The girls are always surprising me with so many hand crafted presents and are always bringing me to tears. Don't get me wrong though, the tears are always tears of happiness. I am so thankful for my girls and thank the Dear Lord for them every single night. They are the reason that I ALWAYS have the Best Mother's Day Ever!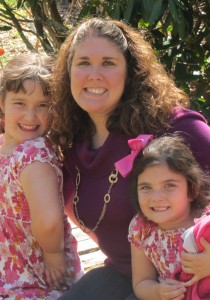 This year, I am so happy that Tiny Prints is helping us celebrate Mother's Day. I am very eager to pick just the right card for not only my mom, but also other special women in my life.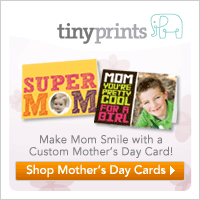 Tiny Prints provides simple, modern and unique stationery from Father's Day Cards to personalized greeting cards to thank you cards, business cards, and even custom wedding invitations or photo birth announcements. Offering exclusive designs from the nation's top designers, easy card personalization, a powerful preview engine and top-notch customer service and paper quality, their designs have been lauded by numerous television networks, publications and celebrities. With Tiny Prints by your side commemorating every holiday and momentous occasion is a cinch! They offer perfect party invitations for every occasion and memorable personalized photo-gifts like notebooks, photo books and calendars to commemorate the event.
What is your best Mother's Day Ever?
Disclosure: Thank you to Tiny Prints for letting me share about my best Mother's Day Ever. In exchange for sharing, I was able to pick out products of my choice.