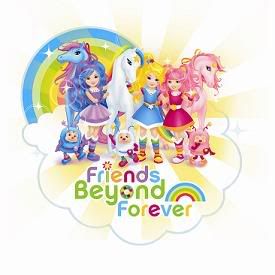 Growing up, I had special toys in my life that I will always have such fond memories. One of those toys was the Rainbow Brite doll. She went everywhere with me, would eat dinner with us, ride on my bicycle and sleep with me each night. I was so thrilled to hear that Rainbow Brite was coming back. I for sure will be getting my girls their own doll so they will be able to make special memories.
With her cheerful look and personality, Rainbow Brite has blasted back onto the doll scene with a vibrant makeover, continuing to delight children with her empowering and imaginative adventures as she spreads her positive messages of courage, kindness, and hope.
Rainbow Brite even has their own website where your little girl can watch videos, play games, do downloads, and even print out coloring books. There is so many things online now that I am not fond of at all letting the girls see or play, so it has been wonderful to have a site the girls can go to that can be trusted. I love playing with the girls on the site and their CD as it just brings back so many wonderful great memories for me. I now get to create special memories with my girls.
I have 5 Rainbow Brite Adventure Pack CD's to share with my readers. The CD includes Rainbow Brite animations, games, puzzles, songs, and so much more. Your little girl will enjoy the whole CD so much. Just please leave a comment below on what your favorite childhood toy was and I will pick 5 random comments to send them one of the CD's.
For extra entries:
1. Subscribe to our Feed
2. Follow us on Twitter
3. Tweet about this post using the hashtag #rainbowbrite
4. Post on Facebook
Please leave a comment for each extra entry you do.
Keeping it real: I was provided these Rainbow Brite CDs to giveaway and was able to keep one of the CDs for my own girls after the review. This review is from my own thoughts and words!