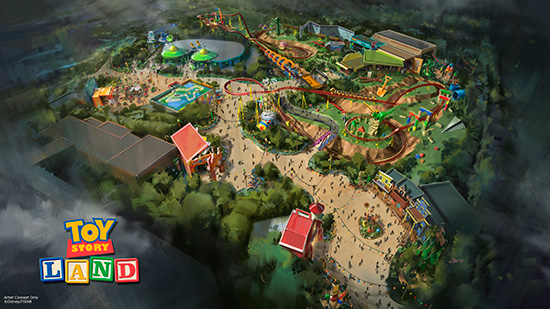 We have exciting news for Toy Story and Walt Disney World fans. Recently, Disney held the D23 Expo in California and announced updates that will be happening in the park. Our family is happy about this particular update!
The new land at Disney's Hollywood Studios will take guests to infinity and beyond, allowing them to step into the worlds of their favorite films, starting with the all-new 11-acre Toy Story Land. Guests will become part of the adventurous outdoors of Andy's backyard, including two new Disney Parks attractions and one expanded favorite.
What exactly will the update include? Here is the scope we have so far.
– Family-friendly roller coaster – This coaster will zip and zoom, plunge and coast as it takes guests on a thrilling, toy-filled adventure throughout the new land on the back of Slinky Dog.
– Alien saucers attraction – The famous little green aliens from the movie will take guests around for a spin in their very own flying saucers.
– Toy Story Mania! – Guests glide into the Toy Story Midway Games Play Set and take aim at 3D objects in a variety of fast-paced games, with an expansion that adds an additional track to this popular attraction
Please stay tuned for more updates. As soon as we receive the latest news on the Toy Story Land, we will be sure so share it with you!
To infinity and beyond….