If you have a lactose allergy, it doesn't mean that you have to skip your favorite recipes with milk. Melissa d'Arabian was on the Today Show recently making chicken in creamy mushroom sauce using LACTAID® Milk with a side dish your whole family can enjoy.
Visit NBCNews.com for breaking news, world news, and news about the economy
Doesn't that look delicious? Yes, it does! If you are a gluten-free family like we are, you can easily use gluten-free noodles in the recipe. We recently purchased a ice cream maker and have enjoyed putting it to good use this summer.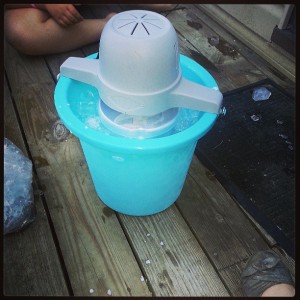 I found this recipe on the
LACTAID(r) website
.
Double-Berry Ice Cream
Ingredients
1 cup sugar
1 envelope unflavored gelatin
4 cups LACTAID® Whole Milk
3 eggs, beaten
1 (12 ounce) package frozen lightly sweetened red raspberries
1 (10 ounce) package frozen strawberries in syrup
Preparation
In a large saucepan combine sugar and gelatin. Stir in LACTAID® Whole Milk. Cook and stir over medium heat until mixture just starts to boil. Remove from heat. Whisk about 1 cup of the hot mixture into beaten eggs; return all to saucepan. Cook and stir for 1 to 2 minutes or until mixture coats a metal spoon (temperature will be about 175 to 180 degrees F). Do not boil. Stir in raspberries and strawberries. Cover and chill 4 hours or overnight until completely chilled. (Mixture will be very thick after chilling.)
Transfer the mixture to a 4- or 5-quart ice-cream maker and freeze according to the manufacturer's directions. Makes about 2 quarts.
I hope these recipes will show you that you do not have to miss out on delicious food if you have a lactose allergy. For more information, make sure to visit the LACTAID(r) website.
Disclosure: This is a sponsored post in conjunction with The Motherhood and LACTAID(r). As always, all thoughts and opinions are of my own.