School is back in session and we are all about fashion here in this household. My precious L is such a fashionista at the young age of 6. She will not wear no jeans of any type, no shorts, no pants, only skirts, dresses, leggings are in her wardrobe. I am sure L is not alone, as there are many kids who have to dress a particular way. The only problem is that schools have guidelines, especially when it comes to shoes. The girl's school has PE each day, which I am so thrilled about, but that means the girls must wear rubber sole shoes to PE. This is where we enter the Crocs new Back-to-School line. All the shoes are school-approved on the outside, but have the same comfort in the inside as their favorite summer shoes, allowing them to relive summer while in school.

M was sent one of the styles from the new line.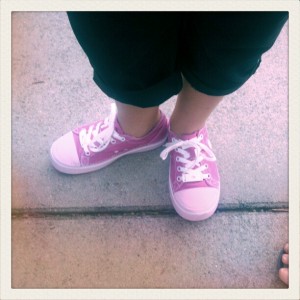 This style is the Kids' Hover Sneak Metallic in bubblegum color. Now, my girls have wore crocs since they were born. They love the feel on the inside and how easy they are to put on. Enter a tennis shoe into the mix for the first time and I wasn't quite sure how M would react to the shoe. She laced up the shoes with a smile on her face and began walking all around outside, then she started running, then she started jumping. I chimed in and said, does this mean you like them? She said, yes, mommy, I have put them to the full test now. She loves the feel of them she said, and they were comfortable. The real test was when she wore them to school all day. I awaited after her first day of school, and she exclaimed, mommy my shoes did not bother me all day long and I got so many compliments on them. SCORE! I believe we have a winner.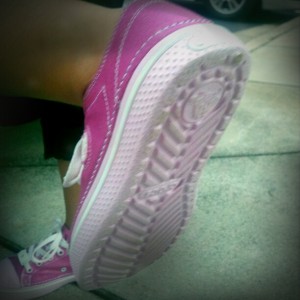 There are 13 new styles in this new line for boys and girls from kindergarten all the way through 8th grade. Each shoe is closed-toed, closed-heeled and rubber sole, so they will meet the schools expectations. Check out all the new styles in this interactive video. All the animated shoes featured in the clip are clickable, so you will be able to interact with the video. Also, there is a hidden egg within this video. Try to find it and click on it. You will have to see what happens! Here is an image of the egg so you will know what to look for:
Pretty cool huh? To help kick off this new school line, Crocs is holding a contest. A trip for four to San Diego: oceanside, family-friendly hotel, San Diego or Sea World tickets, $200 play money, and a rental car. Click here to enter the sweepstakes. You just never know who will win?!
"This post was made possible by Mom Spark Media and Crocs. I received a pair of Crocs shoes for the purpose of this review. I was also compensated for my time investment and work on their Back To School campaign. Thoughts are my own."