Today I am thankful for getting one on one time with my two daughters M and L in NYC. I was nervous about taking them, but the nervousness totally went away once we got into the city.
The first task to cover was getting L on the plane. She did NOT want to fly at all. I stayed really positive and upbeat with her and the plane ride went so smoothly. Both girls were just amazed and kept looking out the windows. L was teary eyed when we first got on, but after she realized how cool it was, she had everyone laughing on the plane.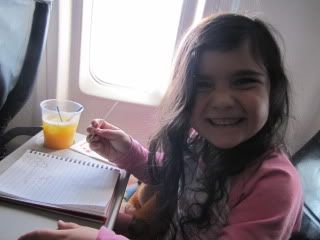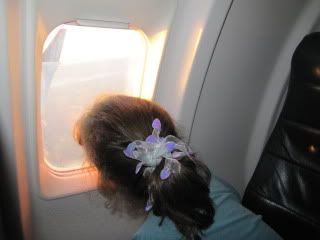 L would say, mommy look there is water, we get to land in the water! Ummm no sweetie we will land on the pavement ;). Then she said mommy, will we get to jump out of the plane? WHAT!! She would say, oh I have a headache, I need to close the window. Then 2 minutes later, oh I need to see the sun let me open the window. She had us all cracking up and she was so enjoying every minute of not having to be in a carseat ;).
M was so laid back, taking in all the sights and asking some really good questions about the landing and just the airplane in general. She has wanted to ride on an airplane for so long and it made me so happy that she got the chance.
Once, we arrived in the city. The girls were so excited and ready to take the city head on. We first were took by taxi cab to Dylan's candy store.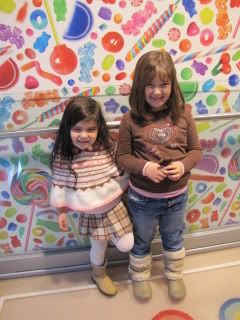 Oh my the taxis. Needless to say, we only rode in two taxis the whole time we were there because they scared me so bad with their driving. They could care less who they cut off or cut in front of and how close they get to someone! EEEEK….
Once we arrived at the candy store, the girls did a short video shoot for the Show. Each child ages 5 to 8 was interviewed individually some questions. I heard the producers cracking up laughing, so I knew it was going to be pretty funny. I made sure I seen the questions first before I agreed for my girls to be asked. The producers came out and said the girls did so good and I would get to see the video the next day.
So we headed onto the city.. just the girls and I. I loved having this mother/daughter time with them. We took the subway. The first couple of times, I kept getting on the wrong subway and the attendants were so nice to let us get on the correct ones without charging us haha. After a while, M said mom you are really getting the hang of these subways ;). The girls just loved taking the subways to get to everything.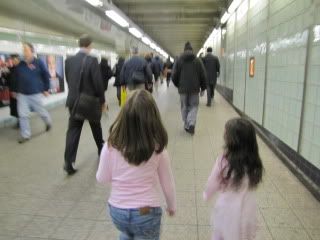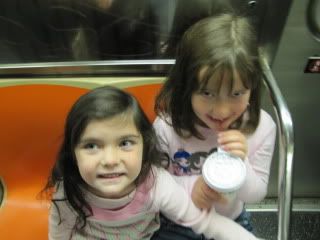 Our first stop was Central Park. It was so beautiful. We didn't do the whole five mile walk of the park, because I knew the girls would get really tired so we just did the outskirts of Central park.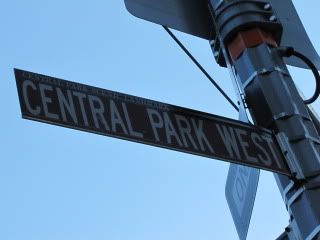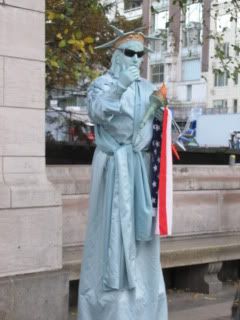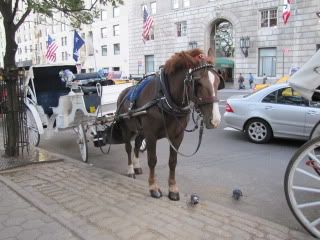 I wanted to do the horse and carriage rides around Central Park, but wanted to save that for when hubby is with us so we can do it as a whole family.
Next stop was FAO Schwartz Toy Store. It is a really HUGE toy store and the girls just went wild. They loved it.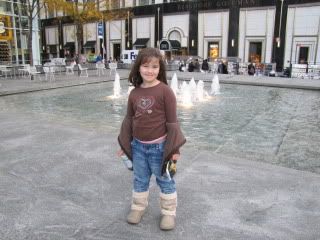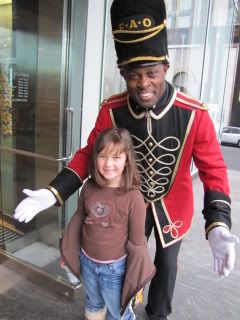 Even the employees get right in there with the kids and begin playing with the toys.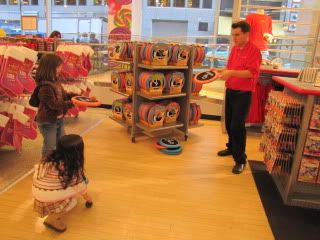 We then walked by Rockefeller Center, but my wonderful batteries decided to die in my camera so I don't have pictures. By this time it was starting to get dark in the city, so we headed back to get something to eat and get in for the evening. I didn't want to be out much past dark with myself and the girls.
The next morning, we were up very early and out of the hotel room by 8am to go to Times Square.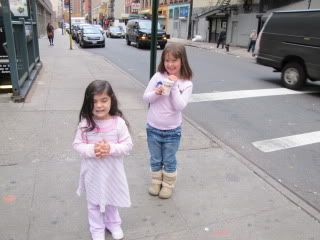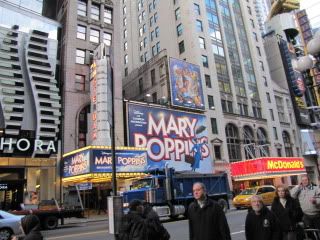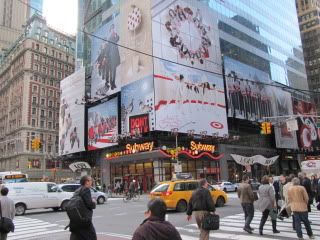 The girls just loved all the lights and billboards. We also went to see where the different News people were. We happened to catch Kris Allen on Good Morning America.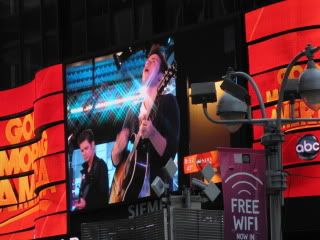 We just had so much fun going in and out of stores and just taking in all the sights and sounds of Times Square. We then headed over to Bryant Park and let the girls enjoy their donuts.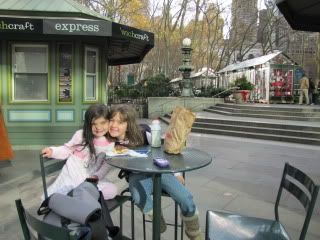 We also got to meet up here at Bryant Park with my wonderful co-worker who works in NYC. I just adore her and was so happy we got to meet up. It also warmed my heart that this meet-up with Dina was one of M's top 3 things that she loved about NYC!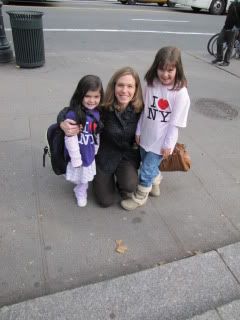 My girls really showed off for Dina ;). The girls got to see the people ice skating there in Bryant Park as well. That was very cool!
We then headed back to the subway, and as you can see on the girl's shirts. They LOVE NYC!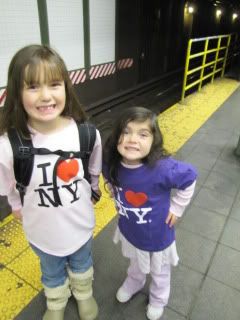 It was time to get ready for the show. We were not allowed to take any cameras or cell phones to the show, so I don't have any pictures of this part of our trip. This was one part of the trip, I was nervous about. I didn't know how everything was going down, but one thing I knew is that I would control what my girls heard at the show. Once we were taken back to the green room with all the other ages 5 to 8 children and their moms, we realized we were the last show to tape that day. She tapes 3 shows a day, I believe 2 times a week. Going in, I knew this show was about Do you talk to your kids about sex and what do children face in today's world? I know my morals and values of how I want to bring my girls up. I am very protective over them, so I wanted to give my opinion and see how other mom's were approaching this same topic.
So all the mom's got their hair and make-up done… didn't I look fabulous? hehe!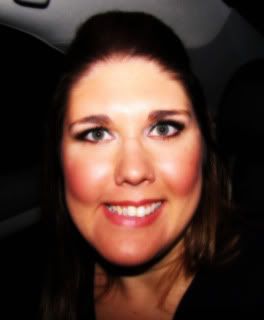 Then it was almost show time for us to go on stage. I know there were teenagers and moms on before us, but I have no idea what they talked about as we were kept in the back. So I'm not sure how that went down. It was our turn so they led the moms onto stage of the 5 to 8 age group. Each mom was asked a couple of questions. I was asked about an incident of a little boy that kept kissing M last year in Kindy and then the second question I was asked if I had ever talked to my girls about sex. My response was, Absolutely not. I think they are too young and yes I want to be the one to talk to them, we are a very conservative family, that loves God and is guided by God, we have several morals and values in our family and I want to make sure I do it the right way. They then showed us the video they had taped of the girls from the day before. OMG… this will by far be the best part of the show. It is sooooo funny. Oh I loved it. L cracked up everyone and the whole audience was laughing. The video is like a Kids say the darndest things and oh did they LOL. It went very well, I was really pleased. They then said ok let's bring out the little girls. Once they brought out the girls, they went into asking them more about their answers. So since L's answers were so darn cute… once question was Where do babies come from? L said from a Doctor. They asked L on stage where the Doctor gets the baby from and she said from the babysitter. Then they said where does the babysitter get the baby, L said from the doctor. OMG it was so funny and cute. LOVED IT. M said that the baby comes from God :). God picks out a special baby to place in mommy's belly. It melted my heart. They didn't talk to M on stage and she wanted to speak so she was sad they only spoke to L, but I assured her that she was on the taped video from the day before.
Overall, I was really pleased. Again, I don't know how the first few segments went, but I was really pleased how my girls and I presented ourselves and glad that they could provide some clean fun laughter :).
It took a very long time to tape so by the time we were done, it was time to head to the airport to fly back home.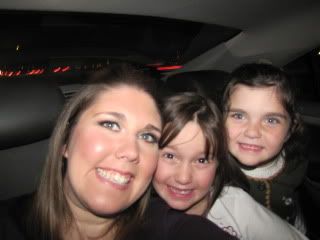 We were in the car headed to the airport and I heard L sound like she was crying. I said what is wrong… she said mommy I am going to miss NYC. Oh it broke my heart, it was then I was soooo happy we did this and I had the chance to let the girls experience NYC. It was such a fun time and we all can't wait to go back :).
M was so excited about flying at night on the plane and L as you can see slept the whole time back home on the plane :).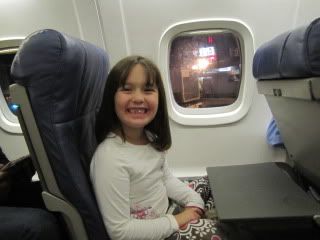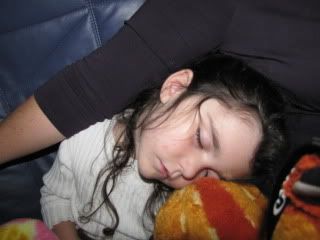 Fun times and I love the memories that we created!