Pumpkin is always on my mind here lately. My step-daughter and I were chatting last night that a Pumpkin Shake would be so delicious right now. You never can usually find a low-fat version though, so I told her I would come up with my own recipe.
After dinner tonight, I dived right into concocting a recipe for a weight watchers friendly shake. Here are the ingredients I used:
1/2 cup fat free Breyers Vanilla ice cream
3 tsp. of canned pumpkin
1/2 cup of skim milk
Nutmeg
Cinnamon
Fat Free Whip Cream
I mixed the first five ingredients together in a blender. Pour into a cup. Top with fat free whip cream along with a sprinkle of cinnamon on top.
RESULT:
4 point Weight Watcher Pumpkin Shake (so delicious)!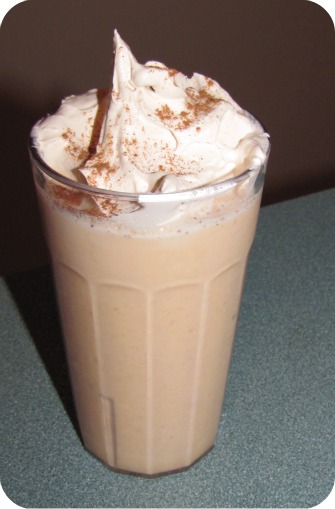 Enjoy!