Are you a lemon pie fan? I have a treat for you. Summer brings out the best in me with baking delicious treats. I started making this recipe about three summers ago and everyone just raves about how delicious it is!
I cooked two pies this past weekend for a family birthday party and thought, I should share it with you all so you can enjoy an awesome summer pie.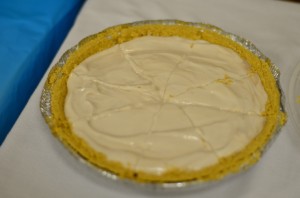 This recipe will make two – 8 inch pies.
Ingredients
1 (6 ounce) can frozen yellow or pink lemonade concentrate, thawed
1 (14 ounce) can sweetened condensed milk
1 (8 ounce) container frozen whipped topping, thawed
2 (8 inch) prepared graham cracker crusts
Directions
1. Mix together sweetened condensed milk and lemonade concentrate in a bowl.
2. Fold in whipped topping.
3. Pour into pie crusts.
4. Place in freezer for at least 2 hours. (You can leave it in freezer overnight to eat the next day.)
Enjoy!
What are your favorite summer treats?