Guess what?
We LOVE Moe's Southwest Grill. We stop as often as we can since we do not actually have one here in our little town. We try to eat there at least twice a month though when we are traveling. Yes, we really do love their food that much. I love how Moe's gives back to their fans by having super fun fan days. Today, they are giving everyone FREE queso dip. Oh my word, this dip is delicious. My husband and two girls can eat a whole bowl by themselves. Visit a Moe's near you to receive a free six ounce cup of our Famous Queso, no purchase necessary!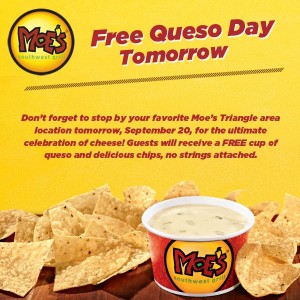 In addition to giving away cheese, Moe's are also asking fans to share the "cheese" online… by sharing their cheesy pictures, stories, pick-up lines, etc. and then tagging it with #sharethecheese, fans can win $10 Moe's Southwest Grill gift cards or Free Queso.
Happy FREE Cheese Queso Day!