It is that time of year. Time to get out the pie shells and create delicious pie desserts. Today, the first day of the month, I spent all day helping in L's classroom. We had stations set-up for their Pumpkin Day and I was assigned to the Pumpkin Pie station. The delicious scent from the pies baking all day was just filling my heart with joy. These were the cutest little pumpkin pies and delicious as well. I would eat the filling and not the crust since it isn't gluten free, but you could make them gluten free. The kids were all enjoying the pies. I just had to share the recipe here with you.
Mini Pumpkin Pies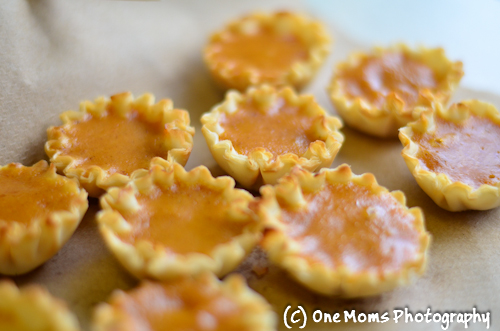 Ingredients
1/4 cup sugar
2 tbsp egg beaters
1/4 cup pumpkin
1 heaping tsp. flour
1/4 tsp pumpkin pie spice
1 tbsp canned evaporated milk
15 fillo shells
Mix all ingredients together and stir. Pour mixture into shells. Bake at 375 degrees for 15 minutes.
This would be perfect for an appetizer at a holiday meal or just to bake on a cold snowy day. Enjoy!