The morning started by my oldest daughter M, asking me what I was going to do with all the frozen strawberries in the freezer. She is our family organizer and the strawberries were cramping her style while she was organizing the fridge and freezer compartments. I decided to go to google and search for an easy cobbler recipe. I found this recipe on The Spruce website. The reason this recipe caught my eye is that it used all real ingredients and I would be able to substitute my dairy free products for all the milk products. As many knows, I was diagnosed with a dairy allergy last year along with previously being diagnosed with a gluten intolerance. Doesn't this picture display deliciousness?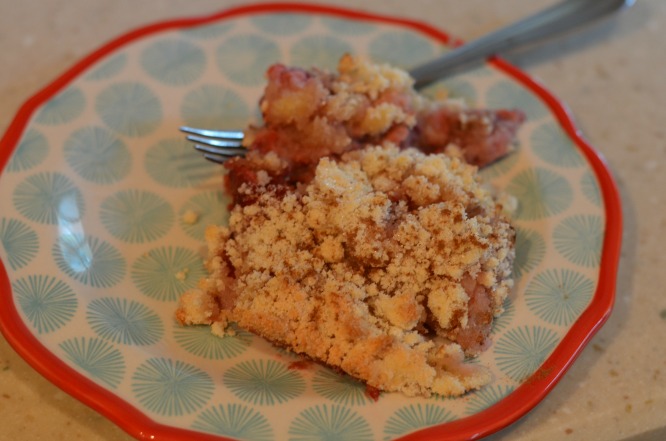 You are going to love how this recipe is so easy!
Ingredients:
1 1/2 cups of strawberries
For the Cobbler Batter:
1 cup organic cane sugar
1 cup gluten-free coconut flour
1 3/4 teaspoons gluten-free baking powder
1/2 teaspoon salt
1 large egg
6 tablespoons melted earth balance dairy free butter
2 tablespoons coconut milk
1/2 teaspoon vanilla
For the Topping:
1 tablespoon organic cane sugar
1/4 teaspoon ground cinnamon for topping
Directions: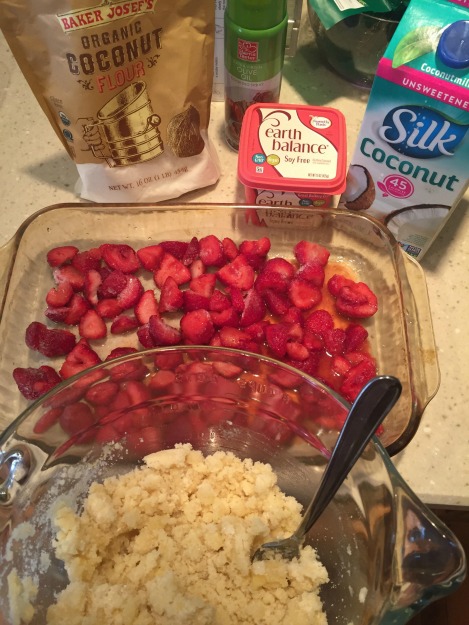 Preheat oven to 350 degrees.
Spray an 11×14 glass pyrex dish with olive oil or your spray of choice. Pour the strawberries into the baking dish.
In a mixing bowl, mix the flour, sugar, baking powder, and salt until thoroughly combined.
Add remaining ingredients, egg, melted earth balance butter (keep 2 tablespoons to pour over batter), coconut milk and vanilla. Beat until well blended. I used a fork to blend.
Evenly spread the batter mixture over the strawberries.
Pour the remaining melted butter over the batter and top with sugar and cinnamon.
Bake for 35 to 40 minutes. The batter will be golden brown.
Enjoy!