It is time to start planning your Disney World trip. I do recommend and consider it a real treat to stay on property at the Disney World Resort, but that is not always realistic and the most cost effective for families.
We were able to experience a hotel that is really close to the main gate entrance of Disney World. This would be the Seralago Hotel and Suites at Main Gate East.
Seralago really makes it a fun family experience with their kid suites. They even mention right on their site: "The Kid's Suite concept was pioneered by us, and no Orlando, Florida hotel does it better."
As we walked in our room for the first time, we were greeted with a fun circus theme. The girls eyes got so big.
The kids room was separate from the rest of the room with its own door. The room was complete with a tv/remote and a Xbox gaming system. The room could sleep 3 to 4 children easily as there is a set of bunk beds and a separate twin bed. The room was very roomy as well.
The parents had their own bed right beside the kids room. A parents TV is also included so there are no fights on what show to watch. I will be honest though, the whole time we were there, the TVs' did not come on at all. It is a great option to have though on those unpredictable rainy/stormy days.
Another huge plus was how large the bathroom was in the room. Bathrooms as you know can be so small in hotels to where you hardly have any room to move . This was not the case at Seralago.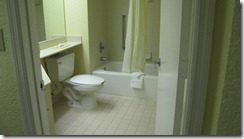 Going along the lines of a cost effective disney world trip, the kids suite is complete with a mini kitchenette.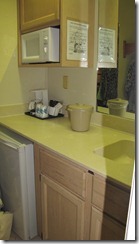 The room was very clean as you can see in the pictures. These pictures were taken as soon as we checked in and the housekeeping kept it clean each day we were there.
Seralago gives you many options to get outside of the hotel room as well. A huge pool with a fun tiki bar.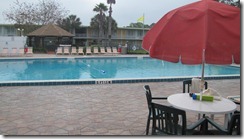 A very fun and colorful playground.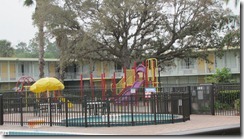 An indoor game room that is filled with so many games that are designed for all ages.
Last but definitely not least, a store that is packed full. If you are like me, there is always that one thing you forgot to pack, never fear as the store will have it for you. Also, the souveniers in the store were very well priced.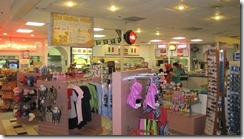 There is also a restaurant on-site that kids eat free, but we were so busy the entire trip, that we were not able to enjoy the restaurant. I will be honest and say we did a lot of packing of our lunches and snacks daily as we went into the parks. I do wish we would have taken advantage of the breakfast each morning.
Overall, I do recommend the Seralago as a cost effective and family friendly hotel near Disney World. You are at the parks within 10 minutes. The hotel is an older hotel, so keep that in mind. The hotel has a lot of older features but that did not compromise our time there or enjoying the room.
Disclosure: I was provided 3 nights by Seralago to facilitate this review. No compensation was given and all thoughts and opinions are of my own.