New series starting here at One Moms World. NC has so much to offer from the mountains of NC all the way to the beaches of NC. My family is going on location to different areas in NC to provide a real family fun review and recommend places that you can visit all across the beautiful State of NC. This week we take a trip to Visit Cabarrus County.
We loaded up the family and took a road trip to Cabarrus County which is where racing begins. Before heading to the big race of the year Coca Cola 600, we took a little side road and headed over to Midland, NC to visit the Reed Mine. It was time to get our hands dirty and find some gold. The girls kept asking lots of questions on the drive over, because they were just so confused why we would go hunt gold. I have realized, I must have sheltered my girls a little too much. Never fear, once I said we were going to look through all kinds of rocks, L's ears perked up and she was counting down the minutes till we got there.
The girls did not realize, that you first get the opportunity to go underground before doing the actual mining. You see back in the 1700's, a twelve year old boy named Conrad Reed made the first documented discovery of gold right there at the Reed Mine. For three years though, the 17 pound rock just served as a door step until they finally took the rock to a silversmith. The silversmith could not identify the rock and the Reed's finally made it into the big city to a jeweler. The jeweler said name your price as they found out it was gold. $3.50 was the quoted price. The Reed's were cheated as the gold was worth about $75,000 in today's prices. The jeweler eventually did give the Reed's $1,000 more. All of this is detailed in the great museum at Reed's Mine and the Underground Tour. The girls were very hesitant at first to go into the underground area, but alas we had fun and was soon off to do a little mining to see if we could find gold.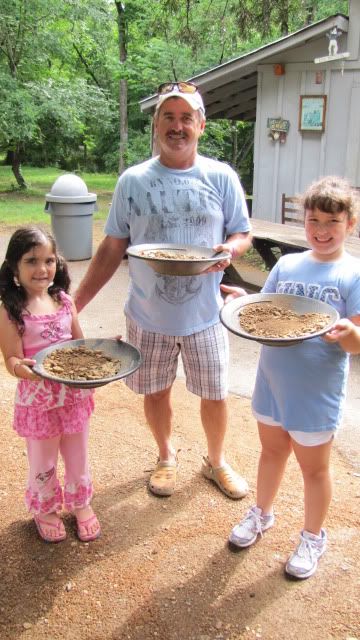 Did we find gold? Watch and see what indeed we did find!
As you can see, it was a lot of fun for the whole family and let's you escape to the yesteryears with your kids. Load up the family and go have fun mining. You just never know when you may find gold and get to retire ;).