On our most recent road trip to Disney World, we had the pleasure of test driving our very first hybrid vehicle, 2016 Toyota Rav4 Hybrid. Toyota graciously partnered with us on this road trip. All thoughts and opinions are of our own.
Click on the below picture to get a small glimpse into our road trip.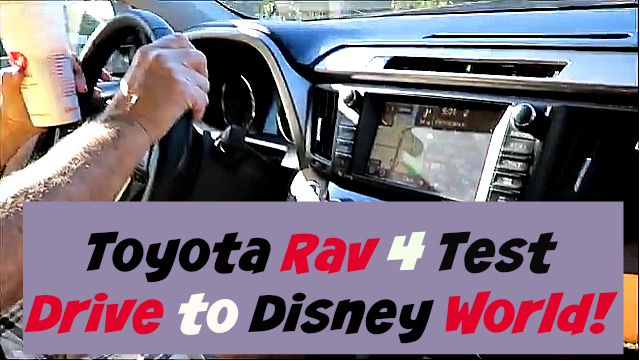 This was a sweet ride. We are a family of four and had plenty of leg room for us all. The only downside was all of our luggage and souvenirs. Since we were gone a total of 8 days and had all the medical things needed for my youngest daughter, we did run out of room in the back. My husband knows how to organize, so he did get us back home with everything.
As you see in the video, the interior is very elegant. The brown and black leather really makes this vehicle feel very upscale without the exhorbiant price. My husband and I both enjoyed the dual zone automatic climate control. I freeze all the time, my husband always gets hot. The dual zone will eliminate any fighting over the temperature. The heated seats were great as well when we were on the road early morning. My husband did like the feel of the leather steering wheel. Again, this gave luxurious feeling without the hefty price.
When you are in a vehicle for a 10 hour road trip, radio sound is a big key to a positive road trip. We enjoyed the Entune™ Premium Audio with Integrated Navigation during the trip. Our family did our own sing-along to the 70s and 80s music.
The gas mileage was amazing. We averaged 33 mpg the entire trip. The RAV4 Hybrid adds extra thrills with 194 net horsepower and outstanding acceleration.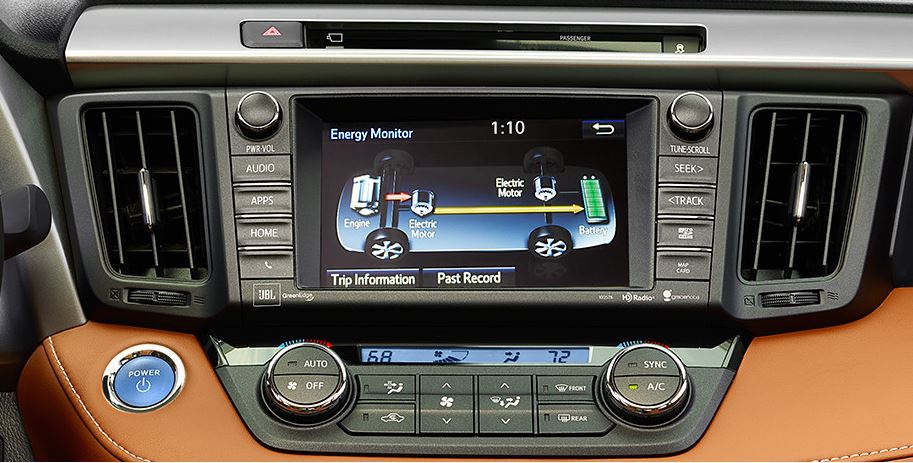 While my husband was driving, I would check out the apps available as you can see above. It was interesting to see when we were running on battery power. When we were running on battery power, there would be no motor noise. As you are driving, you can leave this screen on so the energy monitor can indicate the operation of the gas engine, electric motor and hybrid battery. It provides real-time information showing how power is being used, and even how the battery is being charged. My husband, the auto geek, loved seeing the real-time information.
This Rav4 is a 2.5L, 4-cylinder. Check out the full specs on the Toyota Hybrid website.
Toyota, you have done an amazing job! A vehicle for the future for sure coupled with great comfort.