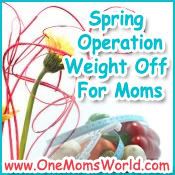 Mom's here we go. This is the very first day of the Weight-Off and I know this is going to be a success. Look moms at all the prizes so far and I still have a couple more prizes that I am finishing up details on. I will continue adding to the page as well.
Each Monday morning we will post our beginning weight and then that week's weigh-in. If you do not want to post your actual weight that is totally fine as well. Just post how many pounds you would like to lose and where you are at for the week. We will be there to support each other through this and if you are having a bad day, blog about it and we will be right there with you to give you an extra hand of motivation and support. Moms let's make sure we are all staying in touch with each other. I will post different motivations throughout the week as well.
The beginning motivation I would like to start with… is make sure you are drinking your water each day. 64 ounces of a water is what we want to be striving for each day. If you can do more, that is great. We can do it. Just put the water at your desk and sip on it throughout the day 🙂
My story: I weighed 132 pounds when I got pregnant with my first daughter. Which was a pretty good weight for me considering I am 5 ft. 8 inches. After I had my first daughter, I lost the weight really good and all my pregnancy weight was gone by the time she was 6 months old.
Now I got pregnant with my second daughter when my first daughter was 13 months old. I gained 70 pounds with her and never lost it. I had post partum depression with my second daughter and I never had it treated, so I don't know if that is the reason I have held onto the weight or not. It has fluctuated throuhgout the 3 years of her life and I was down to 170 once but with everything in life that has went on, I have gained those 30 pounds back. So…
My starting weight is: 200 lbs
My goal weight is: 140lbs
I am really serious about this weight off and so happy other moms are joining in to help me through this time. We are all here for each other!
Please sign Mr. Linky below and share your story this first week.