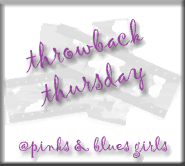 My best friend from highschool emailed me today this:
Subject: A Blast From the Past!!!
Hey, I was just listening to Kicks and this came on! I immediately
thought of you. I LOVE this song, even now…it reminds me of the good
ol' days! So, I had to go pull it up and send to you!!! Hope it opens
for you. COME HOME!!!
Holly
—-
Well after already having an emotional week, I immediately starting crying again haha, as soon as I turned the video on. This is the song she was talking about:
Strawberry Wine by Deanna Carter
Oh my goodness did the good ole highschool memories come flying back at me. I so enjoyed my highschool years, have to say the best years of my school life. Holly was older than me by about 6 months so she got her license before me, so therefore she drove me everywhere LOL and not slow either.. this chick is one fast driver 😉 but even though we were in one small accident hahaha, we survived. Anyways when this song would come on in her car we would sing it sooo loud. It was like our song to just have fun with. Gosh sometimes miss those days. Love you Holly and miss you! She lives back in my hometown where I grew up and boy did we shed the tears the day I moved here :(. Thanks for taking me down the blast from the past trek Holly!!! Those were the good ole days as we would say it.