You see the commercials, you hear the radio segments, you see the pictures, but just what exactly is all the hype about this Great Wolf Lodge indoor water park?
Our family arrived at the great indoor water park for 3 nights over Memorial Day weekend. We were guests of Visit Cabarrus and this trip was extra special as we were actually digging deeper to get past the water park as well. The girls were packed 3 days before time with all their swim gear and before you know it, the time had arrived to be greeted by the big black bear. Welcome sighting for all the guests.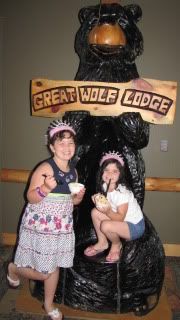 We checked in and headed straight to our room. This is our third trip and the girls are always so eager to check out the rooms each time. They love that they have their own area in our hotel room.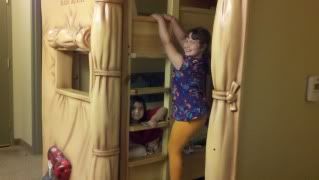 Hubby is just excited to get to stretch out on the couch for a few minutes and see what is on the tube.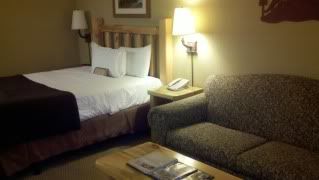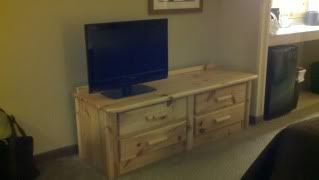 But, there is no sitting in the hotel room for long as the girls are dressed in their swimsuits and ready to head out to the water fun. A minute review of our fun time in the water park area.
I am especially in love with this water park as my girls are both on different levels of what they enjoy doing. The water park really does have areas for the small at heart and the big at heart. While M and I are enjoying all the big water slides, Daddy and L can enjoy the wave pool and the little kiddie area. M loves the kiddie area as well and the whole family can enjoy the big bucket splash. Now, that is a must-do for every family. Life guards are all over the water park as well, so that really assures me. You will notice, the life guards are not allowed to stand in one place. They have to constantly be scoping out their entire area the whole time they are on duty. Awesome move by Great Wolf!
The fun just does not stop at the water park though. Expand your options and enjoy spa time, an ice cream cone, a little arcade time, story time, or even try your hand at the magic wand. The fun just keeps going.
If you want to enjoy a little outdoor time, then take in some family putt-putt time or even dive into the outdoor pool. Your fun options are unlimited as that is what makes Great Wolf more than just an indoor water park. You see why we are so addicted to Great Wolf now right? Special deal right now too if you book by June 30, 2011. Use Promo Code: Fun4All and receive 20% off their best available rates. Get out of the heat and still have water fun with the family.
Great Wolf, until we meet again!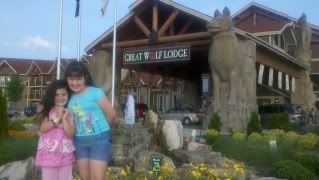 Disclosure: Thank you to Great Wolf Lodge – Concord, NC and Visit Cabarrus for the complimentary nights. All thoughts and opinioins are of our own.