My oh my oh my! How can L be 6? As I put my 5 year old to bed for the last time, I could not stop hugging and kissing her. I said sissy I don't want you to be 6. I want you to stay mommy's baby. She said mommy don't cry, I will still be the same size just the number changes. I love that girl.
She has grown from this shy little goofy baby to my fashion diva young lady. She loves to perform, she loves to make us laugh and she loves for us to be a family.
She is a huge animal lover. We were at the rodeo a couple weeks ago and she wanted to leave because she could not stand seeing the people tie up the calves. Then yesterday on the way to school there was a dead turtle in the middle of the road and she started crying. Mommy that is just not right. People should not be mean to animals like that. Kingston our doggie is definitely her best friend. They are two peas in a pod for sure.
Sissy loves her big sister M. They are truly best of friends and always have to have one another. They hug and give thumbs up to each other at school and at church when they walk away to go to their own classes.
Sissy is still a mommy's girl. She loves all things about her mommy. She still has to go to sleep playing with my hair every single night. She has to have me right beside her each night or she will keep waking up searching for me. She is always hugging my neck and saying "You are the best mommy ever!" She does not like to make me sad. She just warms my heart so much. She wakes me up each morning and gives me the biggest hug. What a way to start the day for sure!
Sissy is a very bright little girl who is now reading her own books. She loves to write little stories and draw. She will draw the cutest little pictures to give me and her daddy. Speaking of daddy, she is getting closer to her daddy and will hug on him so much. At night time though, she is all about mommy!
Sissy we are so proud of you and of the young lady you are growing into. Keep up that fashion diva status and keep on performing. You bring us so many smiles a day. I just want to bottle up this time and keep it forever. We LOVE YOU!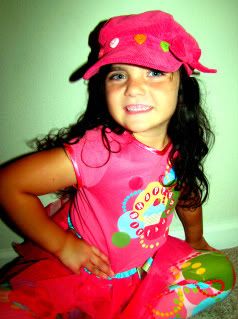 Birthday Video Montage from Pregnancy to 6 Years Old!