We are helping Kraft Fight Hunger here at One Moms World this Christmas season.
See first post here.
According to Feeding America, In 2010, households with children reported food insecurity at a significantly higher rate than those without children, 20.2 percent compared to 11.7 percent. It hurts my heart to hear people go hungry but especially children. These precious children who don't even realize the state of the world around them. They just look up to their parents for shelter, food and water. WE can all make a difference and help fight hunger here in the US.
As stated in my other post, here is how you can help:
1. Please "like" the Kraft Food's Fight Hunger Facebook Page. Once you do, a meal will be donated to a food bank.
2. Play the 2-Minute Trivia drill to donate even more meals.
Kraft will donate up to 4,000,000 meals via online and mobile activities, as part of their goal of providing 25 million meals. I am sharing a Ham Sandwich Recipe today. Each recipe that I am sharing, Kraft is going to donate 1,000 meals to my local food bank.
Ham, Cheddar Cheese and Bacon Sandwiches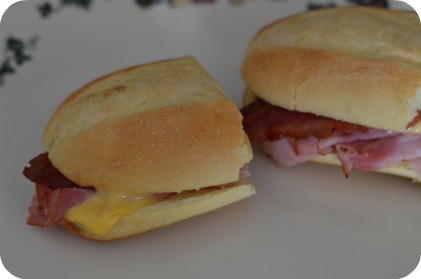 Ingredients
Sub rolls
1 tbsp of Kraft Miracle Whip Light
Oscar Mayer Shredded Ham
Kraft Cheddar Cheese Slices
Turkey Bacon (Already cooked)
Directions
Preheat oven to 325 degrees
1. Place ingredients on sub roll.
2. Cut sub roll in-half.
3. Bake at 325 for 10 to 15 minutes or until golden brown and cheese is melted.
Enjoy!
Perfect mini sandwiches for tailgating. Everyone that tried them was very impressed and I had to end up putting more in the oven. Now that is a success.
Disclosure: Kraft Foods is providing me a gift card in exchange for my participation in this program at no cost to me; however, all opinions expressed here are my own.