In an effort to make sure the girls have more toys that do not require any batteries, I have been on the lookout for  "greener" toys for this holiday season. I'm so excited to share my finds!! I would like to announce One Moms World Holiday "Green" Toy and Entertainment Gift Guide.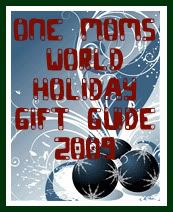 Please feel free to share with your friends :).
Guess what, I also have some of the items to give away TO YOU so it can help you out during this wonderful Holiday Season.
Giveaway Items:
Story Building Palace from SprigToys.com
"The Original Christmas Classics"
Veggie Tales: "Saint Nicholas A Story of Joyful Giving"
To enter the Holiday Gift Guide giveaway:
Please leave a comment below stating which items you would like to be entered for.
For Extra Entries: (Leave an additional comment for each extra entry)

1. Tweet About This Holiday Guide on Twitter
2. Share About This Holiday Guide on Facebook
3. Post About This Holiday Guide on your Blog
4. Subscribe to Our Feed
Hope each and everyone one of you have a joyful and wonderful Holiday Season!! God Bless 🙂