Are you a high heeled girl? I have to admit, I am not that big of a fan of high heels. My feet are hurting so bad after only just a short while of wearing high heels. I know many women are right there with me right?!
Enter Foot Petals into the picture. A solution to finally kill the pain. Foot petals are cushions that you can use in your shoes to help say good bye to the foot pain. Foot petals are made from PORON Urethanes which is a unique patented material. The cushions help absorb the shock so the energy will not be pushed back on your body.
Since you never know what a mom goes through in a day until you have walked a mile in a mom's shoes, Foot Petals jumped on board to create a cushion kit just for moms. It is called the Stiletto Stylist Kit for Moms.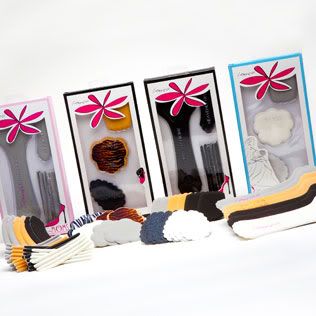 This kit contains:
1 pair of Tip Toes – these flower-shaped cushions prevent calluses, protect bones and tissue and cushion the ball of the foot
1 pair of Heavenly Heetz – these multi-functional cushioins prevent blisters on the heels and help prevent slipping and sliding in your shoes
2 sets of Strappy Strips – these thin strips add comfort to your favorite strappy shoes and sling backs and prevent blisters and unsightly red marks on your feet and heels
1 pair of Killer Kushionz – this full insole can be worn in open toe shoes and sandals to provide arch and heel support
2 pairs of Sole Stopperz – these petal-shaped adhesives are for the outer soles of your shoes and help prevent slipping on wet or slick surfaces
1 pair of Haute Heelz – these slim-fit heel cushions help absorb shock to heels, legs and the lower back as the prevent heel calluses and reduce friction
This whole package sales for $44.95 on Foot Petals.
I will have to say that I was pretty leary about these actually working. I thought for sure they would wear out or not stay in place in the shoe. I was wrong. The cushions go back to their shape after each time you wear them. So each time you are using the cushions, it is like they are new again. The cushions actually do stay in place so now I am able to wear high heels more than 1 hour at a time. This mom is sold :).
Would you like to win a set? Foot Petals is giving set away each month on their website. You can enter here!
Full Disclosure: This post was sponsored by FootPetals.com but all comments and thoughts are of my own as always!