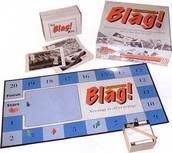 A fellow blogging mommy Melody over at Slurping Life has blagged me! I have just recently found Melody's blog but I am really addicted to it. If you need a smile on your face head on over and read her blog. 🙂 Thanks Melody for blagging me hehe!
She put a new twist on the game.. so sorry moms you cannot hear 8 sexy things about me LOL! Here goes 8 careers that I have had in my lifetime :).
1) Lemondade Stand Owner – My early years of when my mom would have yard sales, I would set up shop and sell lemonade for 10 cents a cup. It was mighty good lemonade too ;).
2) Girl Scout Cookie Salesman – I was once that oh so cute girl in the brown outfit knocking on people's doors pleading with that puppy dog smile to please buy some cookies from me!
3) Magazines salesman – Since I made out so good with my cookie sales, I decided when I got to middle school I would like to sale magazines to raise money for my school hehe 😉 So evidently all the neighbors were not tired of me because I won a free trip to Mcdonalds in a limo. Oh I was talk of school then!
4) Babysitter – I decided to give up my sales crown and pass it on to my younger friends on the streets and take the babysitting crown. I was a sought out after babysitter.. you could here WE WANT JENNIFER WE WANT JENNIFER from miles and miles hahaha.
5) Cashier – Well babysitting days were over once I turned 16 as I had to make more money to keep my new set of wheels on the streets. You know I had to cruise the streets on Saturday nights instead of watching kids… that was just the cool thing to do 😉
6) Proofreader – Only so much you can take of scanning groceries and breaking cartons of eggs ;). Going home with that goo on your hands is all I could take so I begin a new job at a corporation of proofing their negatives. I thought I was hot stuff working at big dog's house.
7) Art Technician – They loved my skills as a proofreader that when I graduated from highschool I landed myself with my own desk and started designing the negatives instead of sitting and proofing them.
8) Virtual Assistant – You see I loved working at the big corporation but once I laid eyes on my first born there was no way that someone else was going to get their hands on my baby girl, so I set up shop in my own house and that is folks where I reside today with my career.
Hope you liked my stroll down memory career lane with me 🙂
These are the rules and details of the Blag:
Each player starts with eight random facts or habits about his or her self.
These blagged chosen ones are to write posts on their own blog about these eight facts.
They are also to post these rules.
At the end of their blog they will list eight people they have chosen to blag by listing their name and a link to their blog.
I blag Jane, Stephanie, Stefanie, Carrie, Tishia, Heather, Alyssa and Bridget
Leave me a comment to let me know you did this blag on your blog :).