Hey there…. I am so excited to get this party started. Come on in, grab you a drink, and let's start mingling.
Please meet your host Jen Houck: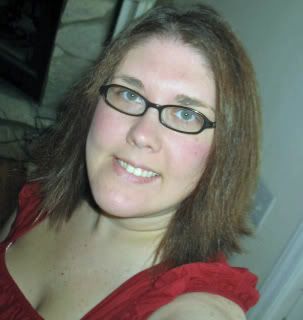 Hey ya'll (southern girl and all ya know), I am so glad to "meet" you. One Moms World is so happy to get to mingle with each and every one of you. What better way to bring in the first day of Spring!
Let's me tell you a little about myself. I am a work at home mom (since early 2003) of two beautiful girls. They are playing it up at the park now so let's take a sneek peak at them:
Big Sister: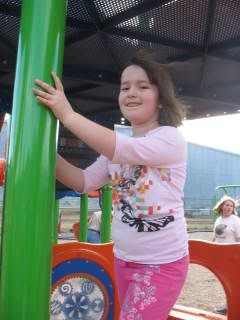 Little Sister: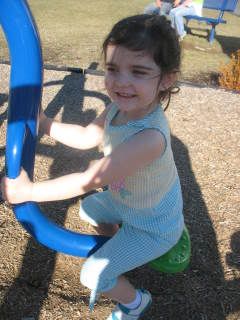 This has been one more long winter, so we are enjoying this warm weather that has been brought our way by the good ole Mr. Sunshine.
I have been blogging since August 2005 and just have loved it from the first minute I started blogging. It helps connecting with other parents and sharing the journey of the curvy road of parenthood. They say life comes at you fast…. I believe that 100%. There is never a dull moment and I could not imagine life any other way. I enjoy being home with them and seeing them grow.
Also, I am a weight watchers fanatic. As of yesterday, I am down 34.6 pounds. I enjoy sharing videos of easy weight watcher meals here, along with easy weight watcher desserts. I believe in sharing recipes that will help you lose weight, but that also has a really good tasting and are EASY to make. (Moms have limited time ya know!) Hey, if I can get my husband (the pickest eater of all) to enjoy these recipes, you know they have to be good. So keep checking back with new recipes each week. Right now, I would like you to pick up a bowl of our Weight Watchers banana pudding. It is so delicious and you can't even tell it is missing the fat.
Recipe:
1 Big Box of Vanilla Pudding Mix
(Follow the recipe on the box for the 5 minute pudding)
Add in sliced bananas to the mix
A Box of Reduced Fat Vanilla Wafers
(Layer your 13 x 9 dish on the bottom with Vanilla Wafers)
Pour the prepared pudding mix on top of the wafers
Sit the dish in the fridge for about 30 minutes to let it set
Once set, layer the top with one regular container of Fat Free Cool Whip.
You are all set to enjoy a wonderful guilt free dessert.
While you are here visitng… do not forget to enter our giveaways:
Win an Autographed Music CD
Leave me a comment below so I can come mingle in at your party as well. Happy Ultimate Blog Party 2009. Woot Woot!!!
Also don't forget to check out the Prize page. I couldn't believe all the prizes. I am going to put my picks below 🙂
#58 Kitchen Aid Stand Mixer
#1 $100 GC to Pedal Cars/Rocking Horse
#19: Target Gift Certificate
#71 Flip Flops for Mother and Daughter
#79 Cute Clips
#106 Melissa and Doug's Dress Up