The month of June was so busy that I am just now getting a chance to shout to all my readers, "I ran my first 5K" – Ok, I ran and walked it but either way, I did my first 5K. I really pushed myself too, because I was so sore for three days. I wish I would have trained a little bit better since the course involved up and down hills. I only do flat lands every night when I get my 2.5 miles in during my nightly exercise.
A few bloggers from NC and SC formed a team with Carolina Mama and Hanes to honor a wonderful friend Chele Chestnut who has bravely fought her own cancer fight this year with thyroid cancer. She is such an inspiration and I was honored to be a part of this wonderful team.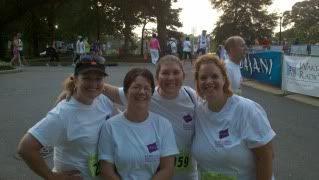 There were so many people doing the early 5K. More than I ever imagined. We paced ourselves at first to let the crowd get through so we could have room to run. I think this definitely was the right thing to do for my first 5K.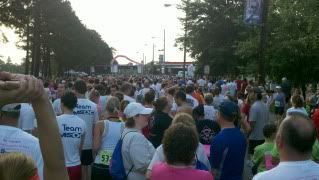 I could have not done this race without the support of a wonderful blogger friend Heather from Not DIY Life. She was an amazing encouragement all way through the race. We would be going up the hills and we both would say to each other "we got this, you can do it!" I definitely recommend doing your first race with a supportive friend. The support will get you through the race. The hills are definitely what got me and I will know for next time, to train more on hilly surfaces.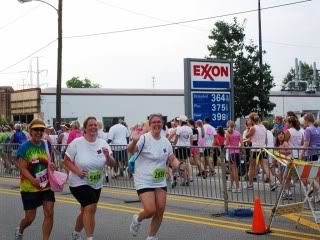 I finished my first race in 48:05. I was pleased with that but my goal is to get under 30 minutes eventually if I keep going with my workouts, I know I can accomplish that goal.
After the race, we grabbed a chocolate recovery drink that Whole Foods was giving out. I definitely needed it as I could feel my body start to shake a bit, so it was good to know they were there to replenish all the nutrients. As we drank our recovery drinks, we walked around to all the booths. There was one big board to where you could write messages to special close ones that are and did fight breast cancer. I left a note for my sweet cousin who put up such a brave fight and unfortunately lost the fight. She is in heaven now shining down on us though and I know she was proud for me doing this.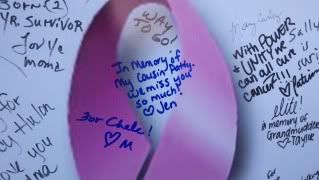 Special thank you to Hanes Comfort for sponsoring our team and a big shout-out to Wyndham Hotels for sponsoring Chele's hotel for the night since she had to drive in from the East Coast. It means so much to us as bloggers to have companies like Hanes and Wyndham support our efforts when helping others. We will forever be grateful. Chele wrote about her experience with Wyndham. She was only there for a short visit, so we definitely need to get her back so she can experience Raleigh and Wyndham more indepth.
Here's to my next 5K. Cheers!