Let's set the stage and turn back time. March of 2003, I had just put in my resignation for my corporate lifestyle job and decided to become a stay at home mother. The only problem? I could not stand sitting still at home. I wanted to know I was contributing to the household income. I would spend time on WAHM.com each day searching for jobs that I could do at home. I came across one and thought the deal sounded really lucrative so I took the bait. One problem though… the job was a scam unfortunately. This is AFTER I had already sent in my SS Number and a copy of Drivers License. I reached out to a few friends on WAHM.com that was scammed by this same woman. We all bonded together and pulled the FBI into this matter to get it resolved. Luckily it did, and even though I was so upset at the time, I made an awesome best buddy through the whole matter. Every day since, we have tried to at least say hey to each other online. Most days we carry on conversations throughout the day. We have sent each other gifts, gifts for our kids, and shed tears on the phone together.
Fast forward 8 years, the day we have been dreaming for this whole time finally comes true. Last week, I got to meet this wonderful friend face to face. My precious friend Nan from A Mom Blog. There were tears shed, but they were happy tears because all those virtual hugs we had given each other, it was time to finally give a real hug to each other in person. I will always have this memory in my mind forever.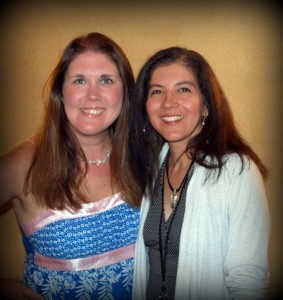 We immediately clicked in real life and were glued at the hip for three days we were in San Diego. Our families immediately bonded and spent lots of time together as well. Now, we are going to have to plan an annual trip to see each other. I am so blessed, thankful, and honored to have this special friend in my life. Love You Nan!
Have you ever met any online friends in real life? How did it go?