The temps were 39 degrees a couple mornings when we woke up this week…. I had to scratch my head and think, did I fly to NC in my sleep?
Very unusual, but how am I suppose to tell the girls it is too cold in April to go outside and play when it has been in the 80s and close to 90? Hmmm well lets bring out the winter clothes and go have a blast in the good ole game of baseball.
Click this image to make it bigger: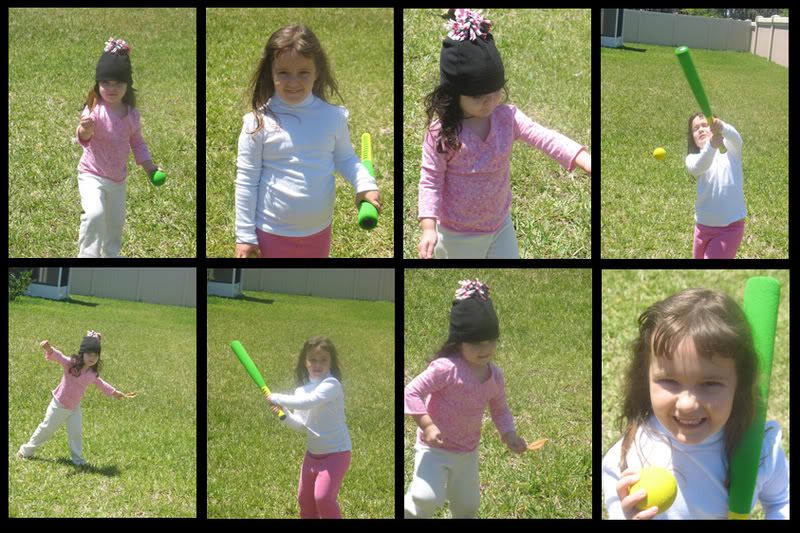 We had a really good time and it was actually a good break from playing outside in the heat. Also it's always good when you can save your energy and electric bill of not having to run the wonderful AC. While we are on the topic of Florida…I thought I would take this time and blog about something that has been happening since we moved down here 10 months ago.
Everywhere we go… I get asked: Where are you from? Because we know you are not from here. Well… no I am not. I am from NC. Oh we can tell they always say! Today when we were in the grocery store, I was in the check-out line. The cashier said while laughing, where are you from? I said I am from NC. She said oh I just knew it. Then she had everybody coming over listen at how she talks.. she is from NC. Ok…..hmmm LOL!I get on the cellphone when I come out of the store and call my husband. Hun… do I really stand out of the crowd down here by the way I talk. He said yes dear you sure do! Oh geez thanks. This is coming from the New Yorker himself.
Take a listen at this little audio I just did and see what you think. Love to hear your comments.
Sign off from Southern Gal Jen 🙂