Congratulations to Debra Ford for winning the $20 gift certificate!
We scream, You scream, We all scream for Chili's! You thought I would say ice cream right? In this household, we are huge fans of Chili's. It all started back in 2007, when we were living in Florida. We were living on a shoe string budget there and Saturday night's were our night out as a family. We always went to Chili's as we knew we could all eat for $25. To this day, it is one of our favorite restaurants.
Our favorite foods that we would like served on one plate are:
Chips and Salsa – oh you cannot go without eating their famous chips and salsa. They are bottomless too, just sayin!
Big Mouth Bites – Since I do not eat red meat and will not cook it, hubby loves getting his little bit of red meat and says the Big Mouth Bites hit the right spot.
House Salad – Chili's has the best house salad in the market. They don't just give you a bowl of lettuce. You get croutons, tomatoes, red onions, cucumbers and cheese. Top it with Italian Dressing and oh I can taste it right now.
Pretty good combination right? You can put three foods together as well with Chili's Triple Dipper. Choose three appetizers and get three dips as well. Chili's is taking it even one step further with their Shout Out To Eat Out campaign.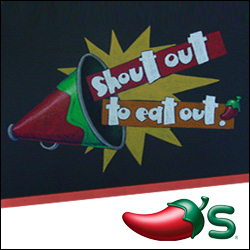 Upload a photo to their site and create your perfect trio. One random winner every day May 1st – June 30th gets a $20 Chili's gift card. One grand prize winner will win a $333 Chili's Gift Card.
And YOU can win here too thanks to: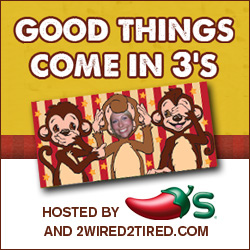 Win a $20 Chili's Gift Card
To Enter:
Input OneMomsWorld.com in the below form.
Extra Entries:
Join One Moms World on Facebook
Join Chili's on Facebook
Tweet
"At @Chilis Good Things Come In 3's! Check out @2Wired2Tired http://bit.ly/linkyrave for 200 chances to win in the #tripledipper linky rave!"
Subscribe to our Feed
Make sure to leave an additional comment for each extra entry.
Contest ends 11:59pm ET on June 12, 2011.
Disclosure: Chili's did give us a gift card for my time. We have been Chili's fans for a long time so all thoughts and opinions are of my own.