Well aren't you just self-centered Jen? HA! Just joking. I have been given two awards over the last couple weeks and it has really touched me ALOT. You know going through this journey of motherhood is so awesome but it makes it even better if you have fellow mommies to take that journey with you.
My bestest bud Nell Taliercio over at CasualFridayEveryday.com gave me the Rocking Blogger Award.

We first met back in 2003 and then lost touch and crossed paths back in early 2005 again and have became such great best buds. We have been there for each other and just last night when I was having a bad night, Nell was there once again to give me positive words. I appreciate her and adore our friendship greatly! So thank you very much for honoring me Nell with this award.
I would like to give this award to the following two women:
Jenn @ Natural News because she just plain rocks with her expertise on baby carriers and I have got to really know her over past couple weeks and really enjoying her blog!
Stef @ Mommy Musings because she is a new mommy blogger and she has some funny posts. Go check out her site! I can't wait to meet up with you Stef.
Now another mommy blogger that I have got to know really good over past month is Val over at Purple Valley. This wonderful mommy does beautiful work with photography. I can't wait till she comes to Disney so she can do a photoshoot of my girlies :). She has awarded me the Nice Award: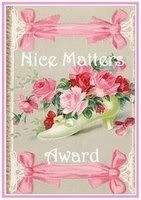 This really touched me and I couldn't thank her enough. I love blogging and I am addicted to her blog as well. Nice makes the world so much happier and it warms my heart knowing all of us mommy bloggers are doing just that! You rock and are nice too VAL ;). Definitely a positive influence on the blogging world 🙂
I award the following a Nice Matters Award, because you the represent the following to me:
"This award is for those bloggers who are nice people; good blog friends and those who inspire good feelings and inspiration. Also for those who are a positive influence on our blogging world. Once you've been awarded please pass it on to 7 others who you feel are deserving of this award."
Melody @ Slurping Life
Tiffany @ Natural Family Living
Deb @ Mom of 3
Kailani @ Island Life