So many people and PR ladies were enjoying them some little L this past weekend at the Type A Mom Conference in Asheville, NC. She would make people smile and then the Little Pony PR people would call her out by name and just make L laugh. It was truly too adorable. L decided at dinner Friday Night she wanted to put on a performance for everyone around us at Mellow Mushroom.
She really gets into singing that song doesn't she? I love how she just adds her own little words in there too! Molly from Go Mom Inc. would be near her and she would call out her name "Molly" and Molly would come over. They would go into a little tickle fest. Made L's Day.
Digital Kadi was sitting with us at one of the sessions and she engaged with L in games of Tic Tac Toe and Thumb Wrestling. L was loving that.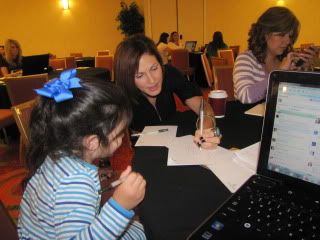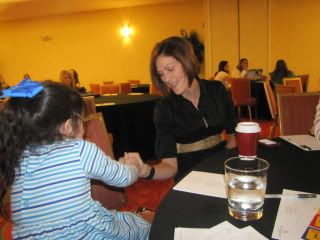 Then L had a little laugh and tickle fest with Maria Bailey. Just too cute!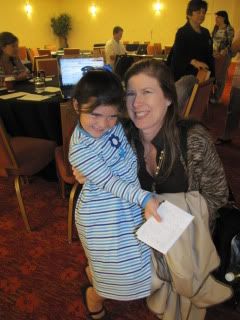 I am so glad the girls went with me. M had a blast at the Kid Con each day but L wanted to stay close to her mommy ;).