The weather is heating up, the pools are open, so that means one thing, time to break out the swimsuits. It is National Swimsuit Confidence Week with Lands End.
I will go ahead and admit, I am not very confident when it comes to trotting through the community pool or public beach with my swimsuit on. I am pretty sure that there are a lot of moms that can shake their head in agreement. That is why Lands End is giving us that self confidence boost that we need to get through these summer months. No need to stress, it is time to just have a fun and stress free summer with your family.
We hit our first 90s today here in NC and so we loaded up the towels, sunscreen, water cooler and all put on our bathing suits and hit the pool. For the first time in a long time, I did feel confident in my swimsuit. I told my hubby I was going to post a picture of myself in my bathing suit but only wanted to do it waist up. As soon as I caught a glimpse of myself in the Lands End Swimsuit, I just got the biggest smile and told hubby let's do a full body shot. I have lost 15 pounds since our March trip to Disney World and you can actually really tell in the picture. So today, along with 100 other bloggers, I am posting a picture in the swimsuit because I have swimsuit confidence.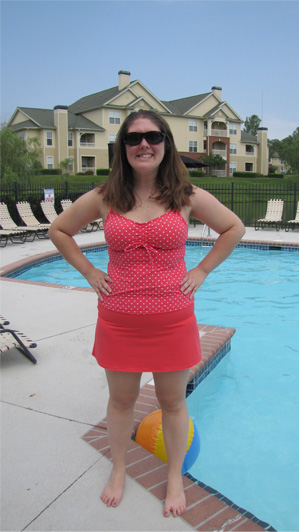 I am just smiling. I am wearing the Women's Regular Beach Living Dot Scoop Tankini Swimsuit. I absolutely love how this swimsuit conforms to my body and it is so comfortable. Also, the swimsuit actually stays in place. I did not have to worry about when I jumped in the pool, that I would come up and be hanging out all over the place. The material is such high quality as well, so you know it is going to last even past one summer. The swimsuit really brings out your best areas too as you will see in the above picture. The skirt is just amazing as I do not like my thighs at all so they can be hidden under the skirt. And… the design? Is it not just the cutest? Even hubby likes the polka dots which is very rare he likes a design that I pick out!
Guess what? You can have swimsuit confidence as well. Join Lands' End each day May 23 – 27, 2011 from 12:00 – 1:00 p.m. CDST and participate in a series of National Swimsuit Confidence Week events on Twitter. The week long movement created to celebrate women of all shapes and sizes as well as educate and inspire them to embrace their swimsuit beauty and have fun this summer. Each day Lands' End will give away 10 Lands' End Swimsuits, 10 Lands' End Beach Towels and announce exclusive swimsuit promotions!
Date: Each Day – May 23 – 27, 2011
Time: 12:00 p.m. – 1:00 p.m. CDST
Location: #landsend
Follow: @LandsEndPR
Disclosure: Thank you Lands End for providing me the cute polka dot swimsuit so I can have swimsuit confidence all summer!