How can we be 10 days till Christmas? Is anyone else running around like a crazy person trying to get everything done? I am finally done with exams at school so that is one big thing behind me and now I am trying to finish shopping and just enjoy the moment of the Christmas season.
I know there is probably a special woman on your list that you just are not too sure what to buy her. Let me suggest the Women's Diamond Quilting Wool Down Vest. This vest showed up on my door step last Friday thanks to Lands' End. I eagerly tore the box open and was in love. Of course, I hurriedly and put the vest on. Perfect fit. The soft feel and the warmth won me over immediately. We were outdoors Saturday night visiting the Billy Graham Library Christmas scene and it was indeed cold outside. The vest lived up to my expectations and kept me warm and don't forget, very stylish.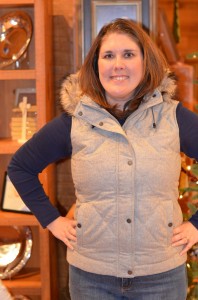 The vest is even on Lands' End's St. Nick Christmas list this year. The vest is on sale right now and with this CODE SANTA and PIN 1212. – You can save an additional 30% and free shipping. Now that is a deal!
Merry Christmas and have a merry time shopping.
Disclosure: Lands' End sent this vest. All thoughts and opinions are of my own.