More and more schools across the country are requiring students to wear school uniforms each day to school. At first, I was ready to just go off on a tangent. How will I get my fashionista to wear a uniform that is far from stylish?
WRONG!
Lands' End has it going on. I have been a huge fan for years. The durability, stylish and affordable clothing won me over again and again. An email entered my inbox a couple of weeks ago showcasing the uniforms from Lands' End. As I was clicking each picture, I was pretty impressed. There is hope and I immediately took back my words. Check out my sweet M!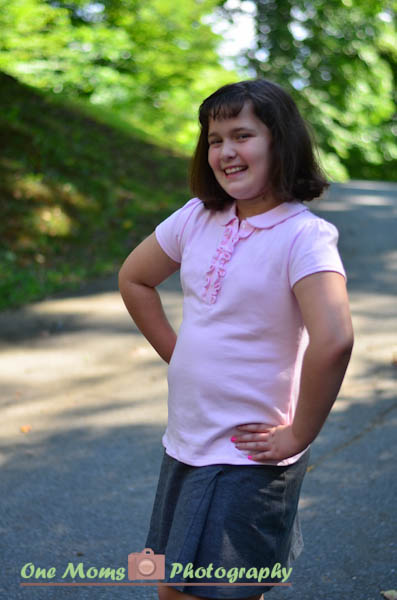 She is wearing the School Uniform Girls' Short Sleeve Peter Pan Ruffle Front Knit Polo and the School Uniform Girls' Knit Skort. You can see the fashion touches that Lands' End brings out in each uniform. The ruffles and the the super cute double buttons on the skirt just gives the outfit extra charm to make uniforms very stylish.
M really commented on how soft the clothes were too. Polos have a tendancy to not be of very soft material and rub the skin the wrong way. You will not find that type of material with this uniform polo. The polo has a feminine fit as well which makes it perfect for fashionistas. The polo is made with super soft fabric that resists stains, shrinking, wrinkles and fading. Win for the laundry parent right? The skirt is just as soft and comes with built in shorts that fit very comfortably to the thigh. I feel like the length is perfect too with just right above the knee.
We are fans and I am definitely looking at school uniforms in a whole different way now. I have a very happy girl… that's what matters right?
Right now, you can save 25% on school uniforms with free shipping if you use the Promotion Code PETUNIA and PIN 2930. Happy shopping!
Disclaimer: Thank you Lands' End for providing the uniform for M to review. All thoughts and opinions are of our own.