The news recently said 49 of the 50 states have snow on the ground. It is that type of winter yet again this year. The only state that doesn't have snow is Florida. I say it is time to head south and take a cruise to the warm waters by way of Florida. I have been pricing the cruises in the past few days and it looks like Carnival Cruise Lines is having the best deals right now.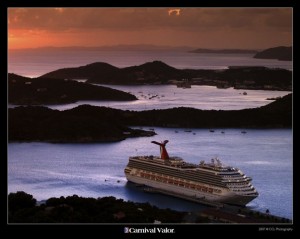 Their early saver program will get you on a 3 day cruise for only $169! Now, if that is not the best escaping the cold prices, then I am not sure what is. A 4 day cruise starts at $229 and a 7 day cruise starts at $449. Awesome prices all the way around. It really depends on just how long you would like to escape all that snow 😉
From speaking with some of my family in the past week, I have heard that the food on Carnival Cruise Lines rocks. Your food is included with your cruise ticket and it is not just an ordinary hamburger. They go all out for the food from what our family is telling us. Also, they do not forget the kids. Lots of kid friendly options available as well.
Speaking of kids, our family also told us about the super cool kids programs. You are able to let your kid enjoy a fun time away from mom and dad so mom and dad can enjoy some quality one on one time. I'm not so sure hubby and I can part with the girls for a long time, but it is nice to know we have that option.
I was blown away by all the activities on the boat and the designs on the inside. You can tell hubby and I are dreaming of a cruise as we sat looking at all the pictures with our mouths open. There is one thing for sure, that you will never here the "I'm bored" comments on a cruise.
Hubby and I are going to keep on planning and hoping we can make it a reality soon. We love to travel but have yet to ever take a cruise. I am going to grab all of my fellow Traveling Mamas one day and we are going to set sail unto warmer waters!
Disclosure: I have not been compensated in any way for this post. I'm just keeping it real for all of us that is knee deep in snow 🙂