Laundry is not one of my favorite activities at all, but the task gets easier when you have a nice laundry detergent. I first came across the Method brand back in 2008 and use their hand soap in our bathrooms now. I love that it is a green product since my girls LOVE washing their hands like ten million times a day. Not sure where they got this from… not their mom at all 😉
When Method contacted me about their laundry detergent, I jumped at the chance to be able to experience it.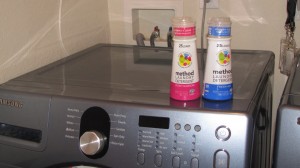 Just why is Method so great:
Smarter – one 20 oz. bottle can tackle 50 loads of laundry with a quarter of the dose of leading brands.
Easier – the precision-dosing pump can be used with one hand and prevents over usage.
Greener – method's laundry detergent is made with 95% natural and renewable ingredients in a recyclable bottle.
Also, to raise the greatness factor even more, Method has created a Laundry Room Love video which is a crowdsourced music video that spreads the word about method's amazing laundry detergent.
You can get involved in the video by submitting your own video to them. Get out your webcam and be one of the first 200 submissions and you will be featured in their music video and receive a free bottle of method laundry detergent. Visit the Method's Facebook page and watch their how-to video on how to submit your video. Everyone who actually watches their how-to video will get a $2 redeemable coupon for the laundry detergent. They will then launch the final crowdsourced video and thank people for sharing and watching by offering another $2 coupon. It's a win-win for everyone!
You can win a bottle of Method Detergent right now here at One Moms World!
Just leave a comment below detailing one thing you liked about the video above.
Thanks to Mom Spark Media for this project. I did receive two bottles of detergent in order to promote the Laundry Room Love. I was not compensated and all thoughts and opinioins are of my own. Contest will end April 15, 2011 at 11:59pm ET.