Congratulations to comment 198 Rita. You have email!
Growing up, those three words were said many of times in my household. Now as a mom, I have passed those three short words onto my girls. Most kids love chocolate milk, but depending on the chocolate that you give them, there could be very little nutrition value. This is why, Ovaltine is always welcome in our house. Ovaltine is healthier in my opinion and Nestle just took it even further to make Ovaltine more healthier for families.
I am so proud to announce that Ovaltine is hitting the shelves improved by having all artificial flavors removed and only colors from natural sources are used in the product. Oh and it does not stop there, Ovaltine now has 12 vitamins and minerals. So if your child asks for more chocolate milk, you will not feel guilty saying yes. The three flavors are Classic Malt, Rich Chocolate and Chocolate Malt.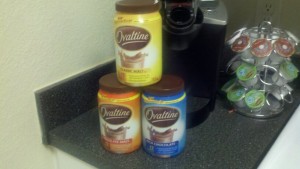 As soon as the new and improved versions arrived at our door, I had to immediately do a taste test with the girls. M loves the Rich Chocolate and both L and I are loving the Classic Malt. Hubby is a tough one to win over and was not a huge fan of Ovaltine before, but I mixed up the Rich Chocolate for him to taste test…. and he LOVED it. In fact, he said: "I actually really like this now." So there you have it, a difference in taste can be found, but it is a positive difference.
How about one of you getting the chance to taste test the new and improved line in your own home? That is right, I have a super fun prize pack for one of you.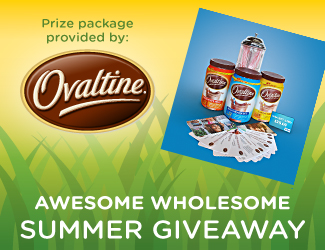 The giveaway package includes three canisters of the new recipe OVALTINE (one of each flavor), the recipe booklet, the countertop straw dispenser, and a $25 Visa gift card.
To Enter:
1. Leave a comment below detailing what your favorite healthy summer snack is!
Extra Entries:
Tweet about this Giveaway
Subscribe to our Feed
Make sure to leave an additional comment for each extra entry.
Contest ends 11:59pm ET on July 5, 2011.
Disclosure: I am an Ovaltine Mom and received Ovaltine for our taste test. I was not compensated for this post. All thoughts and opinions are of my own.