It is time for the annual Epcot International Flower and Garden Festival.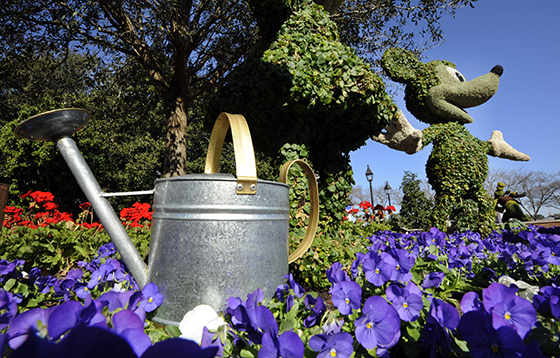 The last time we visited was in 2012. Take a few minutes of your time to watch this short video I put together of our visit in 2012. You will forget all about the ice, snow and frigid temperatures outside.
Why should you visit this year? Let me tell you a few reasons…
NEW Disney Character Topiaries – Disney's first Anna and Elsa topiaries will appear in a garden vignette as the icy "Frozen" world transforms to a brilliant spring palette. Chip and Dale are taking a star turn in two whimsical Epcot front-entrance "Goofy About Spring" floral vignettes. Topiary Goofy, Daisy and Pluto will be in on the fun as well.
11 Outdoor Kitchens featuring fresh new menu items – The new Botanas Botánico Outdoor Kitchen between France and Morocco pavilions will showcase treats like Cachapas with Farmer's Cheese, a sweet yellow corn pancake, and Seafood Ceviche with shrimp, scallops and grouper with mango and avocado. For a refreshing drink, sip the new La Tizana, a non-alcoholic punch finished with fresh fruit that can become an adult beverage with a splash of Santa Teresa RHUM Orange Liqueur. The whole family will love tasting garden- and spring-inspired tapas-sized food and beverages, as well as seeing how the ingredients are grown.
Ten new gardens – Discover a new healing-and-health garden, a pepper garden, a dinosaur-plant garden and a Shakespeare garden, among others, each designed with a storytelling element.
The Garden Rocks Concert Series – Crowds will be rockin' every Friday, Saturday and Sunday on the park's America Gardens Theatre stage. Little River Band, Pablo Cruise, Gin Blossoms and Village People join the lineup of top bands representing four decades of pop music.
Special Weekend Festivities- Plan your visit around weekend special events for extra magic and surprises:
March 13-17 – Spring into Spring Weekend with a nod to St. Patrick's Day
March 27-29 – Art in the Garden Weekend with outdoor art displays
April 17-22 – Earth Day Weekend with nature activities for kids and families, Disney's Animal Kingdom specialists, and a sand-sculpture creation to showcase Disneynature's soon-to-be released "Monkey Kingdom" film
April 24-26 – Florida Fresh Weekend featuring a bounty of edibles and other plants that thrive in Florida.
Children's Play Areas – Children can clamber around play gardens featuring state-of-the-art climbing equipment and hands-on activities in Mike & Sulley's Monstrous Garden and Cactus Road Rally Garden with Mater and Lightning McQueen topiaries.
Visit epcotinspring.com for more details on the festival which is included in regular Epcot admission.