I will admit. I was very reluctant to finally open the box that Verizon sent me so I could review the new Nokia Lumia 822 Windows phone. This phone is exclusive to Verizon and is one of the first two smartphones Verizon Wireless is carrying that runs the Windows Phone 8 operating system. I am now trying out the other phone HTC and will have a full update on that phone next week.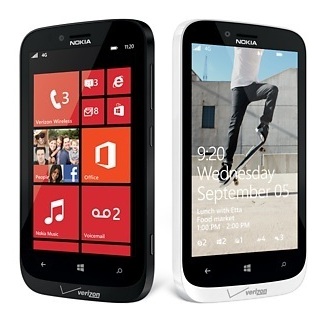 I am an Android geek but I finally gave in and took the test with the Windows Phone. We were invited by Verizon to head to a UNC Tarheel Basketball game to test out the phone. A couple days before, I decided to turn on the phone and get acquainted with the device. At first, it took some adjustment to figure out the app store. Once I was able to sign-in with an X-Box account, I was able to do a search for my most loved apps. Windows Phone 8 has 120,000 apps in its Window Store, and 46 of the top 50 are the most popular ones that we all are familiar with in our everyday use. The LiveApps function is a win for technology lovers. We all know apps drain our phone's battery, but the LiveApps will provide you with live updates such as weather, sports scores and flight info without draining your battery. I used this feature at the game.
The camera with the windows phone is pretty impressive. It was actually taking better quality pictures at the game than my Samsung Galaxy S 111.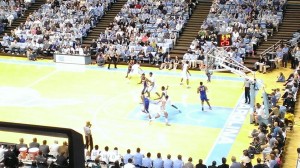 The camera is 8MP Auto Focus Rear–Facing camera with Carl Zeiss Tessar® Lens and Dual–LED Flash (3264 x 2448 for 4:3 mode; 3552 x 2000 for 16:9 mode). We were mid-way up in the stands and you can see what great quality. Click on the above picture to make it bigger.
The phone also has a 1.2MP Front facing camera: f/2.4; Still images (1280×960).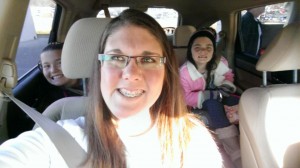 As you can see, great quality.
During the game, my youngest got a little restless but never fear. I had loaded up apps for her on the Windows Phone. I created her own area on the phone called Kid's Corner. This corner allows you to share the apps and music with your child while password protecting your other content and safeguarding them against seeing things they do not need to see. I am really protective on what the girls can see and hear. This feature on the Windows Phone really gives a parent a peace of mind.
The tiles on the home page on the phone are full customizable. You can load what you want to access quickly and use frequently. I can understand why someone would want this phone if they have recently purchased a new Windows 8 PC or tablet as the appearance is so similar. It helps you stay connected on each device and always have your files at hand. The SkyDrive on the Windows 8 phones comes with 7GB of free online storage. This way you can automatically sync between your phone, your laptop, your computer and your tablet.
Overall, I can say I will not turn my nose up to the Windows Phone. It did take an adjustment period and for me to put the wall down between me and windows phone, but I am glad I did.
This phone is currently free on Verizon with a 2-year contract.
Disclosure: All thoughts and opinions are of my own. Verizon sent a test device in order to facilitate this review.